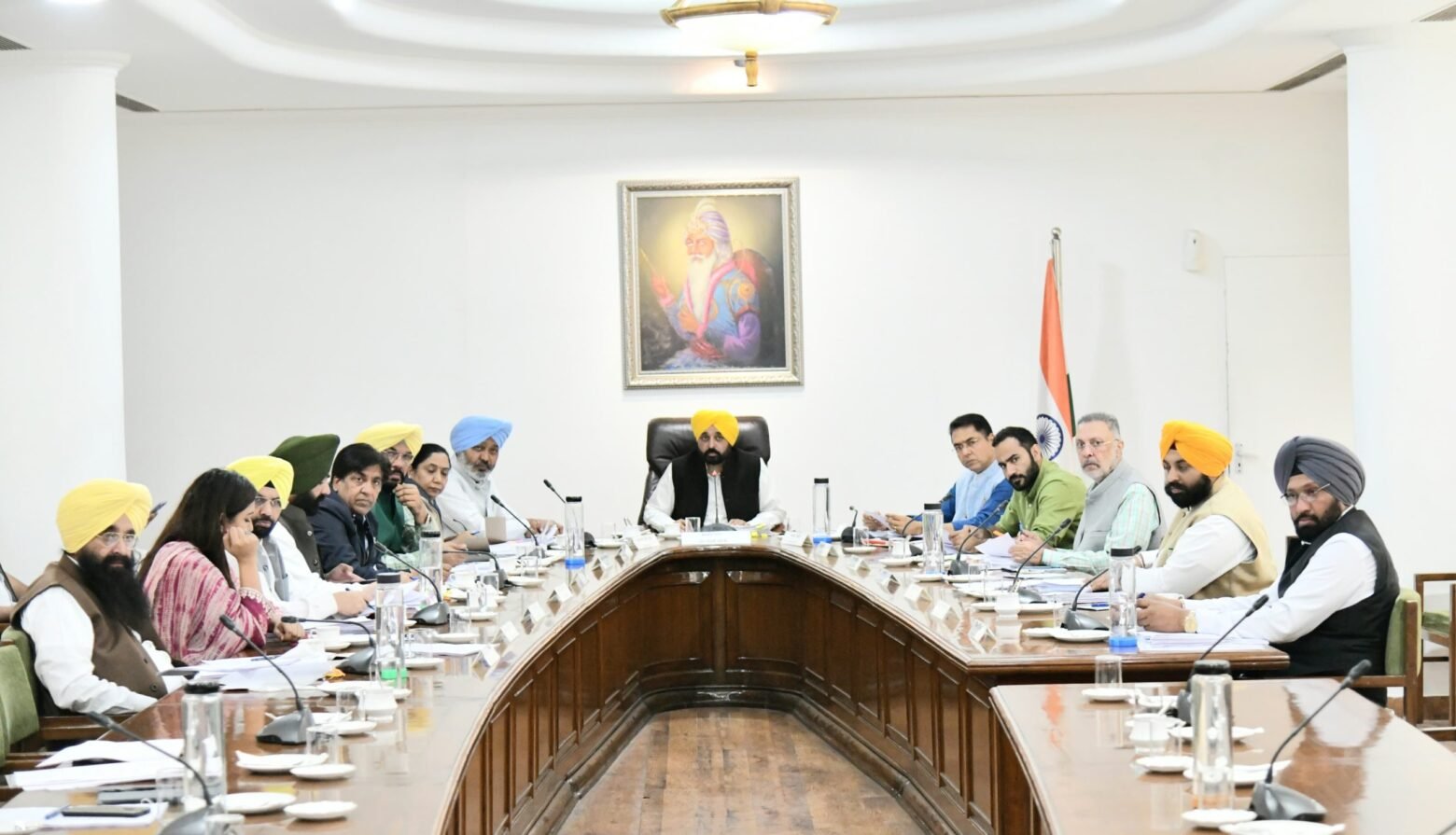 Punjab Cabinet Approves Fifth Session of 16th Punjab Vidhan Sabha
Punjab Cabinet Approves Fifth Session of 16th Punjab Vidhan Sabha
Chandigarh, November 20:The Punjab Cabinet under the leadership of Chief Minister Bhagwant Singh Mann approved the convening of the fifth session of the 16th Punjab Vidhan Sabha on November 28 and 29.
The decision in this regard was taken in the Cabinet meeting held on Monday in the office of the Chief Minister at the Punjab Civil Secretariat-1 here.
The session will begin on November 28 with a tribute to the departed souls and the business of the two-day session will be decided soon by the Business Advisory Committee.
Cabinet key Decisions
Approval to create and fill nine posts in Maharaja Bhupinder Singh Punjab Sports University, Patiala
The Cabinet also approved the creation and filling up of nine posts of technical cadre through direct recruitment in Maharaja Bhupinder Singh Sports University, Patiala. Among these posts there will be one post of Assistant Manager, two posts of Programmer, two posts of Technical Assistant and Clerk-cum-Data Entry Operator. This university was established with the purpose of raising the level of sports in the state through courses, education and training in the field of sports and these posts will facilitate the functioning of the university and students in their daily activities.
Punjab Canal and Drainage Bill, 2023 stamped
The Cabinet also approved the Punjab Canal and Drainage Bill, 2023 for the control and management of canals and drainage in the state of Punjab. Its main objective is to ensure maintenance, repair and timely cleaning of canals, drains and natural water sources to provide canal water for irrigation purposes to farmers and land owners without any hindrance. In addition, the bill will ensure a fair and transparent mechanism for redressal of grievances of water users and other regular restrictions against unnecessary wastage of water.
P.S.S.W.B. The green light to close and merge its employees
The Punjab Cabinet has decided to close the Punjab State Social Welfare Board (PSSWB) and the employees, pensioners and five ICDS posted at its headquarters. Also approved the merger of the staff including the blocks in the Social Security, Women and Child Development Department.
Approval of cancellation on forwarding of cases of anticipatory release of prisoners
The Cabinet gave approval to send a case of commutation of life imprisonment of one prisoner detained in a state jail, while four other such cases were rejected. After approval of the Cabinet under Article 163 of the Constitution of India, these special immunity/anticipatory release cases will be sent to the Governor of Punjab for consideration under Article 161 of the Constitution of India.
Approval of the administrative report of the Department of Tourism, Cultural Affairs, Archeology and Museums

The Punjab Cabinet also approved the Annual Management Report of the Department of Tourism,

 Cultural Affairs,

 Archeology and Museums,

 Punjab for the year 2021-2022.