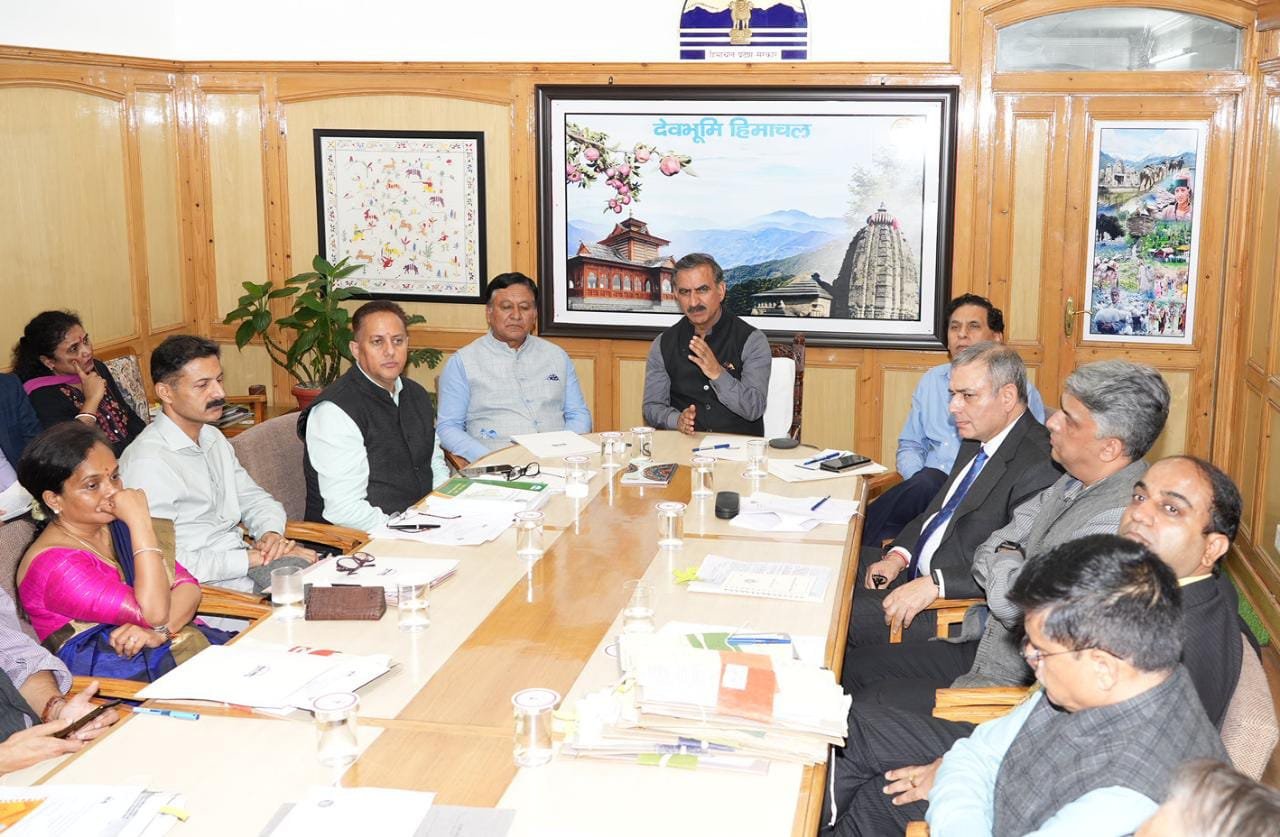 47,390 volunteers were being provided disaster management training:CM Sukhvinder Singh Sukhu
Management of muck and construction debris points should be identified
While presiding over the 8th meeting of H.P. State Disaster Management Authority Chief Minister Thakur Sukhvinder Singh Sukhu stressed upon to take proactive steps in order to minimize the loss of human life and property during the disasters. Various measures for preparedness and mitigation for natural disasters were discussed at length.
There was a need to develop a robust technology system for weather predictions so that adequate measures could be taken well in time to minimize the loss. He said that there was a proposal to set up five automatic weather systems in snow bound areas of the State for better forecast of climate conditions He said that moraine-dammed lakes formed due to melting of glaciers were being monitored on a regular basis.
 He stressed the need for developing such a system which could predict the cloud burst so that losses could be lessened and directed conduct a study on the increasing number of the cloudburst incidents.
The Chief Minister emphasized suitable measures and guidelines for the release of water from the dams during rainy seasons and it should be staggered, so that minimum damage is caused in the downstream areas. He stressed on the capacity building measures and said that about 47,390 volunteers were being provided training in the State so that their services could be utilized in the disaster hit areas.
In addition to disaster helpline 1077 and 1070, helpline 1100 should also be incorporated for seeking information regarding disasters so that affected people could be provided timely help during disasters, he said.  There was a need for strengthening civil defence structure by providing training to young generations for quick response to combat disasters, said the Chief Minister.
He said that the buildings of Rajiv Gandhi Day Boarding Schools in the State would be made earthquake resistant with ultra modern facilities.
The Chief Minister said that Himachal Pradesh was prone to various hazards, such as earthquakes, landslides, flash floods, and cloudbursts. Regular monitoring and data collection is key to disaster risk reduction. He said that government departments should ensure safe construction practices in the State. He said that activities such as land use based planning, retrofitting of critical infrastructure like schools, hospitals, lifeline buildings  etc, were essential. He said that hill slope cutting, management of muck and construction debris points should be identified and focus should be laid on the drainage system as well.
    Revenue Minister Jagat Singh Negi, Chief Secretary Prabodh Saxena, Principal Secretary Revenue Onkar Chand Sharma, Principal Secretary Devesh Kumar, Secretary Education Abhishek Jain, Secretary Finance Akshay Sood, Director General of Police, Sanjay Kundu, Special Secretary Revenue, D.C. Rana, and other senior officers also attended the meeting.