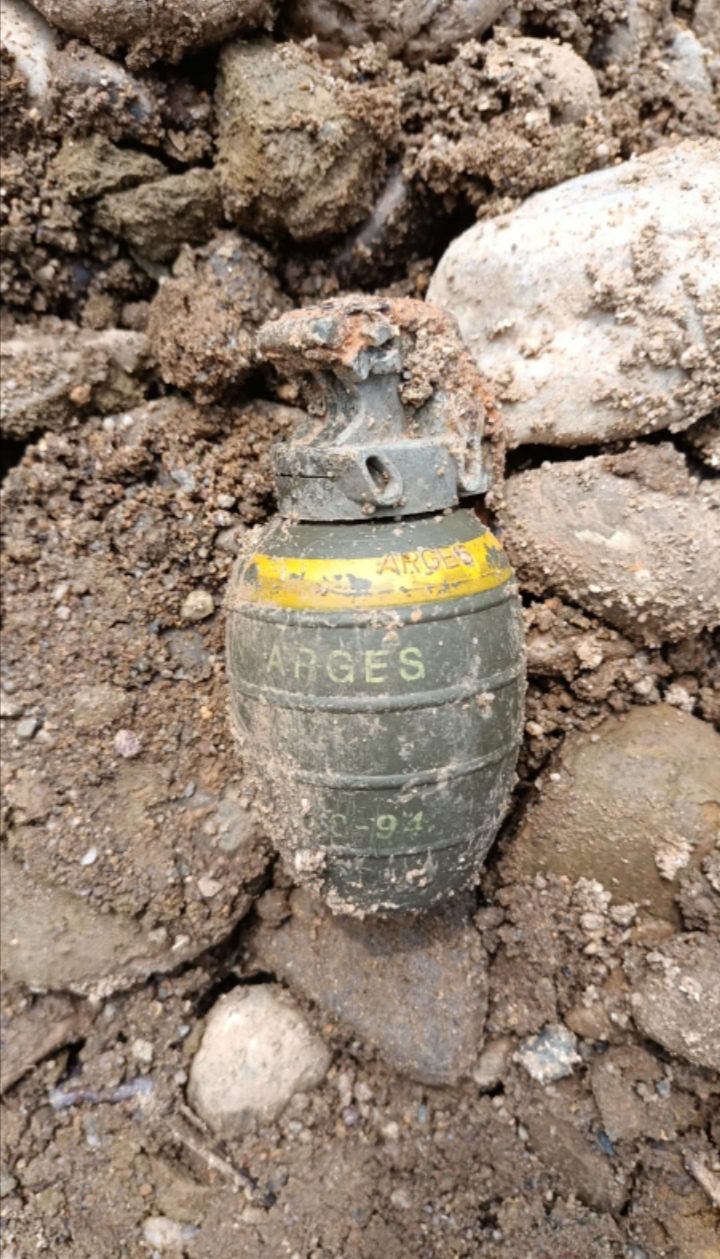 A live grenade found in Himachal near Pathankot- destroyed by army: SP Kangra  
A live grenade found in Himachal 
 Dharamsala (Arvind Sharma) 5/8/22
A live grenade was found today on the hill side of Jalandhar -Pathankot NH near Bhadroa Chowk, in Himachal touching Punjab border , which was later deactivated by the Army Bomb Disposal Squad.
Dr Khushal Sharma, IPS, Superintendent of Police, District Kangra informed the media at Dharamsala that this object was detected by  Ravinder Singh NHAI employee  and he informed this to Police Station Dumtal  on phone  that a suspicious metallic object is visible amongst the debris came out  of the hill due to rain.
On receipt of the information, the in-charge police station immediately informed the Superintendent of Police Kangra, who  sent  a high level to the spot and called the bomb disposal squad of the army to the spot and got the said grenade deactivated.
"According to the report of the Army Bomb Disposal Squad, the said grenade was  LIVE HE 94 and the grenade has GREN-ARGES NO. 005 8-94 MADE IN PAKISTAN ," said SP Kangra.
In the above context, the police station Dumtal has been registered a case  number 126/22 dated 05.08.22 under  Section 03 Explosive Substances Act 1908 and the further investigation of the case shall be conducted by the Special Investigation Team as per the guidelines of the Superintendent of Police, District Kangra.
SP Kangra Said it looked to be an old grenade, "the grenade must have been hidden long back here which came out along with the debris of the hill due to rain."
Photos released by Kangra Police