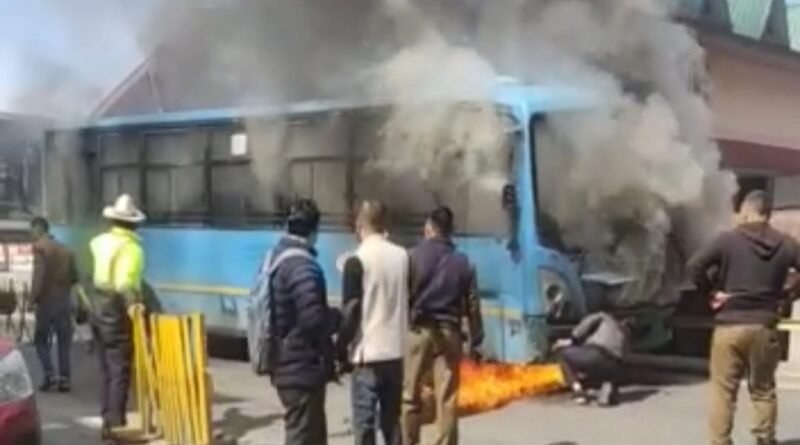 An unfortunate incident occurred in Shimla where a HRTC bus caught fire near the lift bus stop
Earlier today, an unfortunate incident occurred in Shimla where a bus belonging to the Himachal Road Transport Corporation (HRTC) caught fire near the lift bus stop. Thankfully, prompt action was taken by the driver and conductor who immediately stopped the vehicle and helped the passengers evacuate safely.
Despite their best efforts, the fire soon went out of control and the fire brigade was summoned to the spot. The firefighters were able to contain the flames and prevent any further damage. Fortunately, no casualties were reported in this incident. It is yet unclear what caused the fire to break out, but authorities are investigating the matter to determine the cause and take appropriate measures to prevent similar incidents in the future.
We are glad that everyone involved in this incident remained unharmed and urge everyone to remain vigilant and take necessary precautions to prevent such mishaps.
The people of Himachal Pradesh are raising concerns over the inability of the HRTC authorities to conduct systematic checks of their transport vehicles on a regular basis, despite having a substantial budget.
This issue is a major setback when it comes to ensuring public safety. The lack of organized inspections of the HRTC's vehicles raises questions about the effectiveness of their safety measures and protocols. It is imperative that the HRTC takes proactive steps to ensure that their vehicles are regularly inspected and maintained to prevent any potential safety hazards.