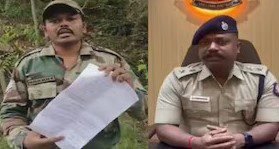 Army Jawan's Wife Recounts Harrowing Assault, Raises Concerns Over Security for Military Families
Saptrishi –
Thiruvannamalai, Tamil Nadu:
In a distressing incident, the wife of an Army jawan who recently alleged a brutal assault by a group of individuals in Thiruvannamalai district, Tamil Nadu, has come forward to share her harrowing ordeal. Keerthi (28), the Army jawan's wife, revealed that she was attacked by a mob of approximately 40 men who subjected her to physical violence, contrary to her husband's earlier claim that the assault involved 120 men.
According to her account, around 40 men forcibly entered her shop and demanded that she vacate the premises. As she attempted to enter the shop, they forcefully pulled her out and subjected her to a vicious assault. Keerthi disclosed that she endured kicks to her chest and underbelly during the ordeal. Furthermore, the attackers seized her phone and mangalsutra.
The incident has raised concerns about the safety and security of military families, prompting questions about the ability of the administration and law enforcement agencies to provide adequate protection. It is disheartening to witness such hardships endured by the families of our dedicated soldiers, who selflessly safeguard the nation while often enduring separation from their loved ones.
The incident serves as a reminder of the sacrifices made by Army personnel and highlights the need for enhanced measures to ensure the well-being of their families. A thorough investigation into the incident has been initiated, with authorities urged to take swift action to bring the perpetrators to justice and address the concerns surrounding the safety of Army families.
The incident underscores the importance of a robust support system and effective security measures for military families who endure the challenges of serving the nation. It is crucial that authorities work diligently to create an environment where Army personnel and their families can find solace in the knowledge that their sacrifices are respected and their well-being is safeguarded.