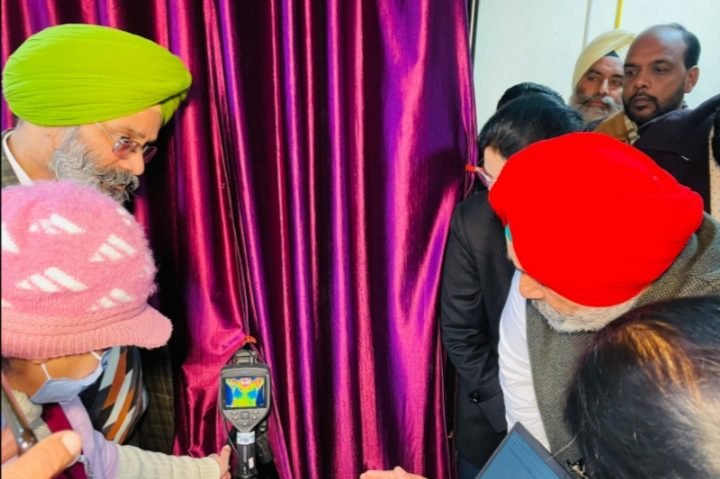 Breast cancer is a serious disease in Punjab, government installed screening machine
Chandigarh January 3, 2022
The Punjab government led by CM Bhagwant Maan, with the aim of providing quality health facilities to the residents of Punjab, has established a thermal screening device in the Civil Hospital Samana under the Breast Cancer AI-Digital Project to carry out the primary diagnosis of breast cancer with a new technology. The screening device was inaugurated by Hon'ble Health Minister Punjab Chetan Singh Jauramajra and dedicated to the people.
On this occasion, Health Minister Punjab Shri. Chetan Singh Jauramajra said that breast cancer is a serious disease in Punjab whose cases are increasing at the rate of 5 percent every year. According to the statistics of the year 2021, 4446 new patients are suffering from this disease in Punjab. Most of these patients are identified at third or fourth stage . The major reason for this is the lack of awareness among the people about the symptoms of this disease and lack of screening . He said that if breast cancer is detected on time, the treatment becomes easier and the seriousness of this disease can also be avoided and It can be completely cured. He said that for this purpose, a project has been launched by the Health Department in collaboration with Niramai and Roche India to test every woman above the age of 30 years in Punjab for this disease through new digital technology. Under which this screening device has been established today in the civil hospital of Samana. This test is similar to another test used for breast cancer screening called mammography, which costs around 2000 rupees, but this test will be done absolutely free.
In this way, Punjab is the first state in the country to provide free screening for breast cancer. He said that an attempt will be made to reach this type of technology through a mobile van from village to village. He congratulated the officials of the health department, Niramai and Roche India who are always striving to provide good health facilities to poor people as per the objective of the state government.
He said that two more dialysis machines have been installed at Civil Hospital Samana, which will start working soon. Apart from this, the facility of ultrasound scan for patients will also be started here soon.
Director Health and Family Welfare Punjab Dr. Ranjit Singh Ghotra appealed to the general public to be aware of such diseases and make maximum use of this free facility provided by the government so that fatal diseases like breast cancer can be identified early. He said that under the Chief Minister Cancer Rahat kosh Scheme, every cancer patient is being treated free of charge up to 1.5 lakh rupees in government recognized hospitals. Nodal Officer Dr. Sandeep Singh gave detailed information about the program and said that all the districts of Punjab are being covered under this project. Civil Surgeon Dr. Dalbir Kaur welcomed the chief guest and all the officials who came and told that under this project, a list of suspected women with symptoms of breast cancer has been prepared by giving training to the paramedical station of the district and conducting a Survey.