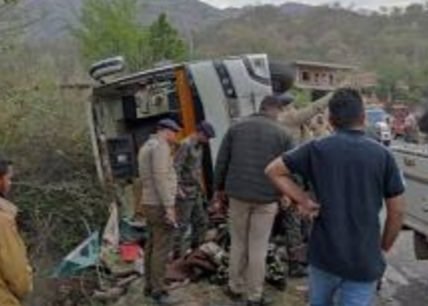 Bus accident at Bilaspur, one women died 41 injured
Shimla 3rd March, 2023
One person died and 41 injured in an bus accident at Bilaspur today.
A tourist bus HR 38 AB 0007 while coming from Chandigarh and going to Manali overturned on the Chandigarh Manali highway.
In this mishappening a women lost her life and 41 other got injured,
CM and Deputy CM mourn demise of bus accident victim
Chief Minister, Thakur Sukhvinder Singh Sukhu and Deputy Chief Minister, Mukesh Agnihotri has expressed grief over the death of a girl from Jaipur, who died in the bus accident at Kunala near Bilaspur today. The private bus was on its way to Manali while it met with an accident in which around 40 sustained injuries.
Chief Minister directed the district administration to provide immediate relief to the next of the kin of the deceased and best medical treatment to the injured.
Thakur Sukhvinder Singh Sukhu prayed to the Almighty to grant peace to the departed soul and strength to the bereaved family members to bear this irreparable loss.
Deputy Chief Minister in his condolence message has prayed for the peace to the departed soul and provide strength to the family members in this hour of grief.