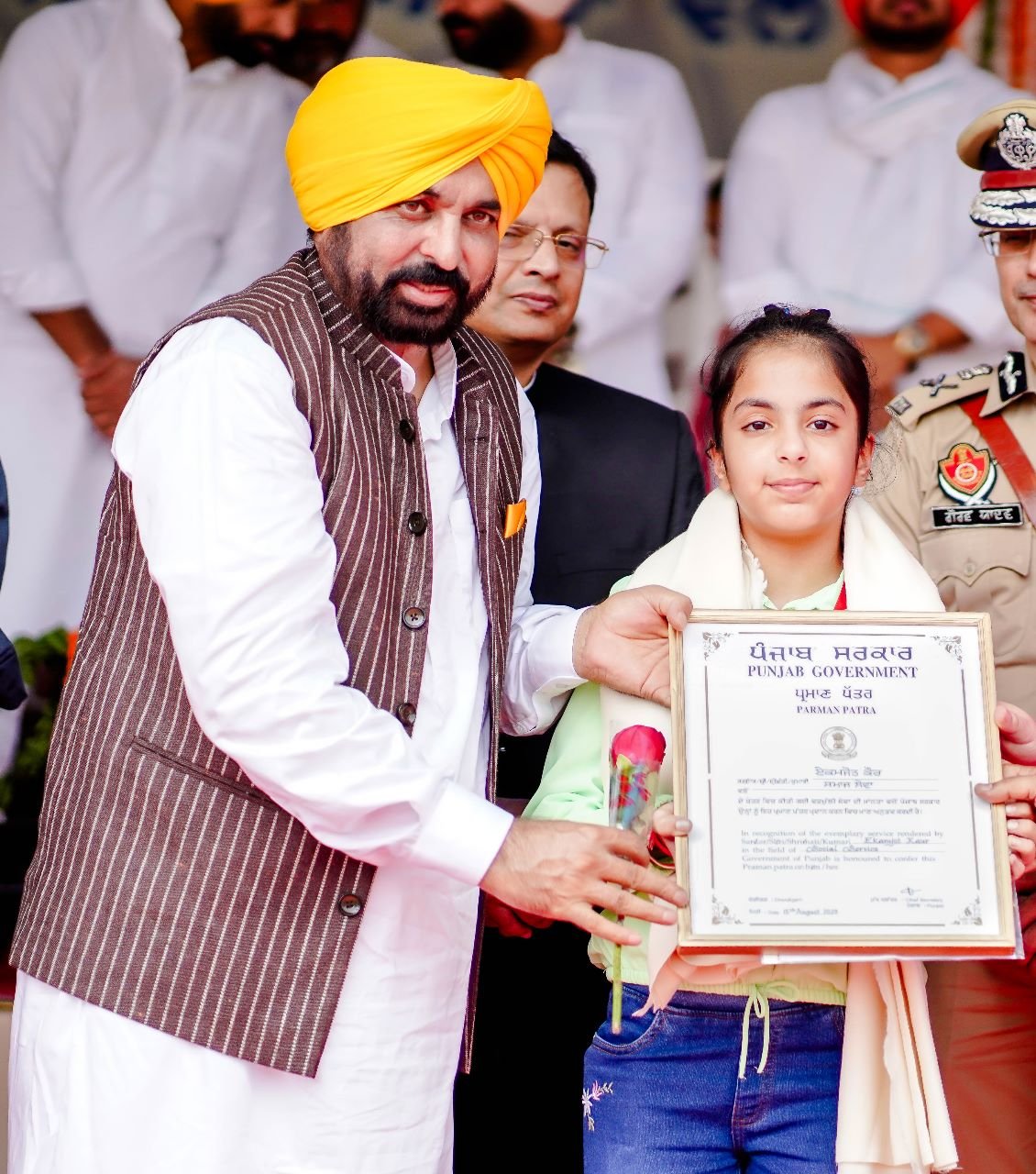 Chief Minister Recognizes Excellence – State Awards and Police Medals Conferred
Patiala, August 15:
In a ceremony held on the auspicious occasion of Independence Day, Punjab Chief Minister Bhagwant Singh Mann conferred state awards upon 13 distinguished individuals who have excelled in various fields, along with bestowing the Chief Minister's Police Medal upon 19 deserving police officers and officials for their exceptional service.
The accolades celebrated individuals hailing from diverse backgrounds, including social activists, artists, litterateurs, poets, progressive farmers, environmentalists, government officials, and a student, all of whom have made remarkable contributions to their respective domains, benefiting the larger public interest.
The recipients of these prestigious state awards and medals were honored for their relentless dedication and significant accomplishments in their respective fields, exemplifying the spirit of excellence and service.
Among those feted were Sanvi Sood from Roopnagar, Harjinder Kaur from Patiala, Sanjeev Kumar SDM Khamaon, Sukhdev Singh and Fateh Singh Patwari (both from Pathankot), Ekamjot Kaur of Patiala, Major Singh of Taran Taran, Paramjeet Singh of Bathinda, Saleem Mohammed of Jalandhar, Gagandeep Kaur Science Mistress of Patiala, Sukhpal Singh Science Master of Barnala, Col. Jasdeep Sandhu Advisor-cum-Principal Director Civil Military Affairs, Head Quarters Western Command, and Santosh Kumar Commandant 7th Battalion of NDRF, Bathinda.
Furthermore, Chief Minister Mann bestowed the esteemed Chief Minister's Police Medal upon 19 exemplary police officers and officials, recognizing their exceptional contributions to maintaining law and order and ensuring public safety. The recipients of this distinguished medal included AIG AGTF Sandeep Goel, DSP AGTF Bikramjit Singh Brar, Inspector Pushvinder Singh, Constable Navneet Singh, SSP Ferozepur Bhupinder Singh, AIG CID Alam Vijay Singh, SP Investigation Tarn Taran Vishaljit Singh, DSP STF Ludhiana Devinder Kumar, DSP Sanjeevan Guru, DSP Flying Squad VB Barinder Singh, DSP Subash Chander, Inspector Shiv Kumar, Sub Inspector Gurinder Singh, Sub Inspector Suresh Kumar, Sub Inspector Akshaydeep Singh, ASI Iqbal Singh, ASI Harwinder Singh, ASI Dinesh Kumar, and ASI Surinder Pal Singh.
The recognition bestowed upon these individuals serves as a testament to their exceptional contributions and underscores the commitment of the Punjab government to appreciating and encouraging outstanding service and dedication across various fields.