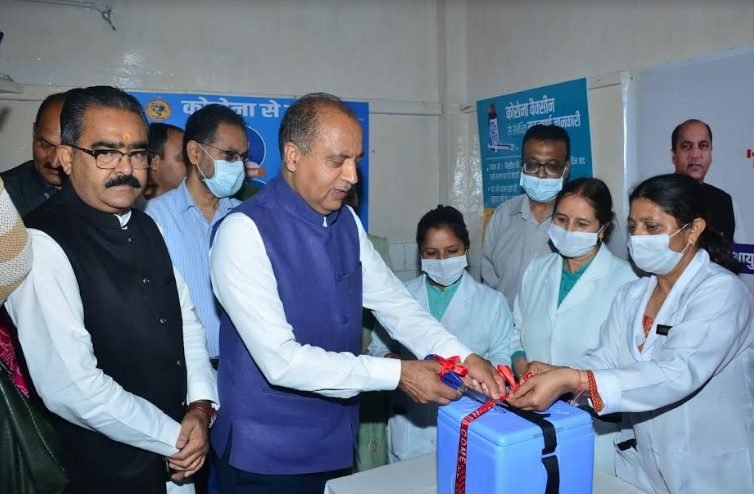 CM JairamThakur launches Covid-19 Vaccination Amrit Mahotsav campaign
Chief Minister Jai Ram Thakur launched 'Covid-19 Vaccination Amrit Mahotsav' campaign from Deen Dayal Upadhyay Hospital here today.
While interacting with the media on the occasion, the Chief Minister said that this drive has been started from 15th July, 2022, which would continue till 30th September this year. He said that a target has been set to administer precaution doses free of cost to about 51 lakh eligible people above the age of 18 years in 75 days. This too will be completed ahead of time, he added.
Chief Minister said that the vaccination campaign against Covid-19 was launched nationwide by the Prime Minister Narendra Modi on 16th January 2021. He said that Himachal Pradesh had set a record in the country for the first and second dose vaccination against covid-19 which was even appreciated by the Prime Minister. He said that the State had set a record on 6th December 2021, by becoming the first state in the country by applying the second dose of the Covid vaccine to all the eligible population.
Jai Ram Thakur said that the State Government was keeping an eye on the increase in number of covid-19 cases in the State. He urged the people to adopt Covid appropriate behaviour and come forward to get them vaccinated. He also urged the people to get them vaccinated with precautionary dose. He said that the State now has a capacity of about 11500 beds with 48 PSA plants, 3 LMO plants, about 18 thousand oxygen cylinders, 1014 ventilators. At present there are 25 active COVID centers which can be easily expanded if required.