Congress leader "Rahul Gandhi" launched 'Bharat Jodo Yatra' in – Kanyakumari, Tamil Nadu
"Bharat Jodo" (unite India) Yatra (Congress' pan-India march) started from Kanyakumari has impacted the Congress positively.
Bharat Jodo Yatra began from Kanyakumari and will end in Jammu and Kashmir.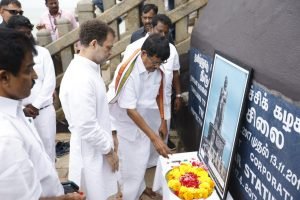 A host of Congress leaders will walk 3,500 km during the march.
Gandhi stated that the goal of the Bharat Jodo Yatra is to unite the people of India rather than to fight and create a "violence and hatred" atmosphere.