Congress shall provide Old Pension Scheme in Himachal: Priyanka Gandhi Vadra
Dharamsala (Arvind Sharma) 4/11/22
Congress general secretary Priyanka Gandhi Vadra said that congress will guarantee to provide Old Pension Scheme to employees of Himachal as soon as it comes to power in the state. She said "We have restored OPS in Chhattisgarh and Rajasthan and will now do it in Himachal too." She said that the bjp government is busy waving the loans of lakhs of crores pof their closed rich friends and doesn't have money to pay OPS. She was addressing a party rally in Nagrota Bagwan assembly constituency of Kangra district today. In Nagrota, RS Bali, son of Congress leader GS Bali, is the Congress candidate.
While claiming that it was the Congress which created Himachal, she also remembered former CM Virbhadra Singh and former minister GS Bali who worked for the development of the state till death. Congress leader Priyanka Gandhi has said that this time the Congress government will be formed in Himachal Pradesh. She made a special mention of the heroes of Kangra too . Referring to the heroes and martyrs, she said that she herself is the daughter of the martyr. "I myself have lost my father to terrorism," she said.
She said that each and every worker of Congress is busy campaigning for the state whereas BJP is busy in pacifying their rebels'. She said that BJP has drowned Himachal in a debt of 70000 Crore of rupees.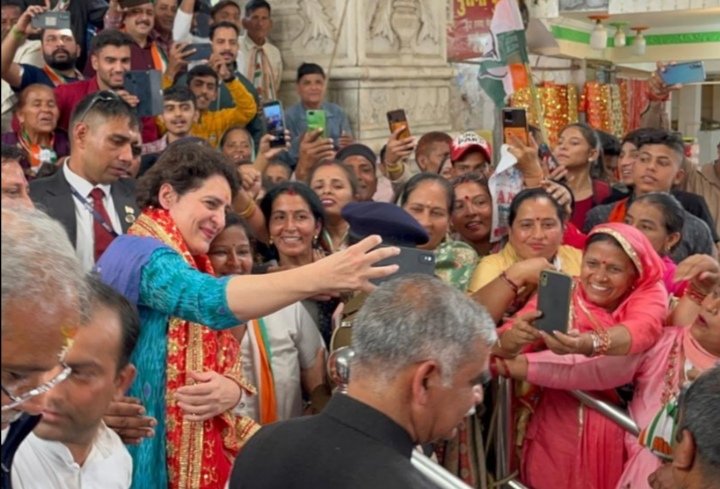 Speaking about the Agniveer scheme for recruitment into the Army, Priyanka said it was an insult to the martyrs of Himachal. Priyanka Gandhi Vadra paid obeisance at Mata Jawalamukhi temple also.
Along with Priyanka , Chhattisgarh Chief Minister Bhupesh Baghel, state in-charge Rajiv Shukla, Congress state president Pratibha Singh, campaign committee chief Sukhwinder Singh Sukhu and Leader of Opposition Mukesh Agnihotri were also present in the rally .
Himachal shall go to poll on 12 of this month for the 68 seat state assembly.