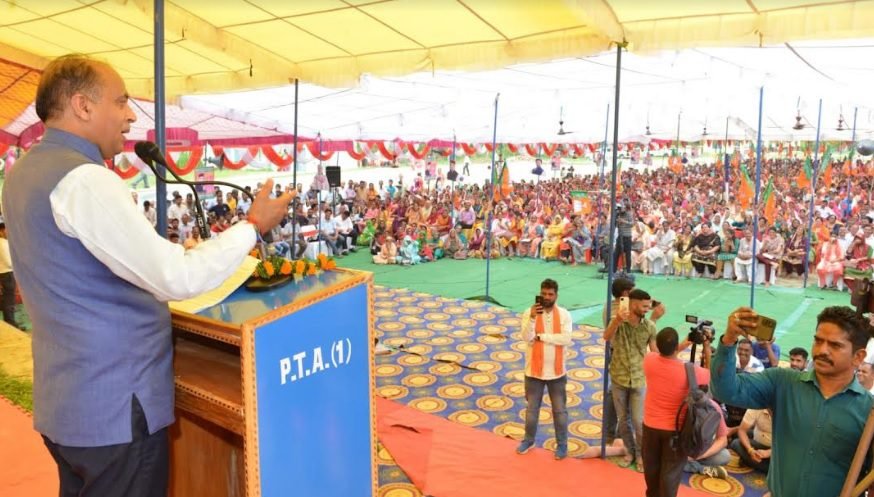 Due to poor policies of the Congress that youth were facing crisis of employment: Jairam Thakur
Government Degree College would be opened at Balh-Seena and Sub Tehsil at Talai besides upgrading of PHCs Kalol and Gehrwin to CHCs. These announcements were made by the Chief Minister Jai Ram Thakur while addressing a largely attended public meeting at Balh-Seena in Jhandutta Vidhan Sabha area of Bilaspur district after he performed inaugurations and foundation stone of 18 developmental projects worth about Rs. 94 crore during his one day tour to the constituency.
Chief Minister also announced opening of a new PHC for Zaddu, a new Electrical Sub Division at Jejwin, opening of AEO Office at Gehrwin, Patwar Circle at Malraon, opening of Police Posts at Gehrwin and Kalol.
He announced upgradation of Government High School (GHS), Marottan to be upgraded to Government Senior Secondary School (GSSS), Government Primary School (GMS), Buhad to be upgraded to GHS, upgradation of GPS Amroa to GMS and upgradation of GMS Duhak to GHS. He also announced starting of Science Classes at GSSS Salwad and GSSS Kosarian.  
He said that Jal Shakti Sub Division would be opened at Talai provided it fulfills all criteria.
Chief Minister said that all the developmental projects which were dedicated by him today would go a long way in making Jhandutta Vidhan Sabha area a model constituency of the State. He said that this was his fourth visit to the constituency and during this period he has provided developmental projects worth crores of rupees for Jhandutta Vidhan Sabha area. He said that Rs.18.27 crore Academic Block, Rs. 4.38 crore Boys Hostel and Rs. 3.75 crore Girls Hostel in 'Param Vir Chakra' Naib Subedar Sanjay Kumar Government Polytechnic which was dedicated by him today, was started during the tenure of the present State Government.
Jai Ram Thakur accused the Congress leader of the area for misleading the people of the constituency by issuing false statements. He said that the Bagchhal bridge in the constituency would be completed soon and would prove a milestone for the whole State. He said that the people of the State have completely rejected the Congress and would give befitting reply to them in the coming elections in the State. The Congress leaders have been baffled due to the regular visits of the Prime Minister Narendra Modi to the State and his benevolence towards the State, he added.
Chief Minister said that Prime Minister would soon visit the State to dedicate AIIMS in Bilaspur to the people of the State. He said that National BJP President Jagat Prakash Nadda and Union Minister Anurag Singh Thakur would also accompany the Prime Minister. He said that people of the State has reposed full faith in the BJP as they know that double engine governments at the Centre and the State were vital to ensure that the pace of development goes uninterrupted.
Blaming the Congress Party for the unemployment in the country and the State, Jai Ram Thakur said that it was the poor policies of the Congress that youth were facing crisis of employment. He said that the present State Government was spending over Rs. 1300 crore on providing social security pension to the needy as compared to Rs. 400 crore spent by the Congress Government. He also detailed several schemes launched by the State Government. The Congress leaders were now publicly claiming that they would stop these schemes once they come in power in the State, he added.  
Chief Minister also honoured the meritorious students of the constituency on the occasion. He was also presented a book 'Cultural and Natural Heritage of Himachal Pradesh' written by Dr Sanjay Kumar Dhiman, a senior HAS officer on the occasion.       
Chief Minister inaugurated Rs. 18.27 crore Academic Block, Rs. 4.38 crore Boys Hostel and Rs. 3.75 core Girls Hostel in 'Param Vir Chakra' Naib Subedar Sanjay Kumar Government Polytechnic College, Kalol, Rs. 3.12 crore metalling and tarring of Tannour Gulani- Chiknaghat road, Rs. 3.22 crore upgradation of Bachhretu to Naghiar road, Rs. 2.91 crore upgradation of Sunhani to Doon road, Rs. 11 crore upgradation of Gangloh to Malroan road, Rs. 2.13 crore Type-III quarters at CHC Jhandutta, Rs. 4.43 crore construction of water supply scheme to village Kujail and improvement of distribution system to village Samoh, Rs. 8.24 crore Lift Water Supply Scheme to village Dari Bhari and its adjoining villages  from Seer khad and augmentation of lift water supply scheme Samleta Bhater,  and Rs. 8.21 crore augmentation of source of LWSS Berthin Sergal Bhaba Kotla and Sunhani. 
Jai Ram Thakur laid foundation stones of 3.90 crore 50 bedded Civil Hospital at Berthin, Rs. 1.51 crore Rest House building at Jhandutta, Rs. 3 crore new building of S.A.K.S. Government Senior Secondary School Jhandutta, Rs. 2.93 crore improvement of Lift Irrigation Scheme Bhallu old and new, Rs. 3.89 crore improvement of source of Lift Water Supply Scheme Jeora Bhadol and Roperi, Rs. 8.29 crore renovation and remodelling of rural water supply scheme of LWSS Lurhar Bajoura and Tihra Badgaon and Rs. 55 lakh Sushila Gaushala at Balh-Seena under Temple Trust Baba Balak Nathji.
MLA Jhanduta J.R. Katwal, while welcoming the Chief Minister to his home constituency, said that the Jhandutta Vidhan Sabha area has witnessed unprecedented development during the last four and a half years. He said that the water supply problem of the area has been redressed once for ever for next fifty years. He said that that maximum number of bridges have been completed during this period. He said that the BJP was a nationalist party which keeps nation first and was the biggest political party of the world. He said that Rs. 6000 were being deposited in the account of farmers under the PM Kisan Samman Nidhi Yojna. He said that first Atal Adarsh Vidhayala was also opened in the State in Jhandutta constituency. He also detailed a few developmental demands of the area.