Empowering Youth and Enabling Dreams: Minister Anurag Thakur Commends Prime Minister's Vision at 8th Tranche of Rozgar Mela in Mohali
In the 8th tranche of the Rozgar Mela, Prime Minister Shri Narendra Modi distributed more than 51,000 appointment letters to newly inducted recruits, today, through video conferencing. Extending his well wishes, the Prime Minister bestowed upon them the title of "Amrit Rakshak," heralding a promising journey ahead. In Mohali, the event was organised by the Headquarters of BSF Western Command, Chandigarh, and held at the Indian Institute of Science and Research (IISER) Mohali campus. The event, operating under the aegis of the Ministry of Home Affairs, Government of India, saw the conferral of Offer of Appointment letters to 231 youths in Mohali by Hon'ble Union Minister Sh. Anurag Singh Thakur directly and through video conferencing. Out of these, 134 have been appointed in Border Security Force, 17 in ITBP, 30 in CISF, 47 in CRPF and 03 in Assam Rifles.
The ceremony was dignified by the presence of Shri Anurag Thakur, the Hon'ble Minister of Information & Broadcasting, Youth Affairs, and Sports, Government of India, who graced the event with his presence. Minister Thakur, while addressing the gathering, warmly commended the visionary leadership of Hon'ble Prime Minister and stated, "This Rozgar Mela, born from the commitment of our Prime Minister, represents an essential stride towards fulfilling his pledge to offer meaningful employment opportunities. Our Prime Minister's vision drives our nation's progress, and this Mela exemplifies his dedication to the youth and the nation's prosperity."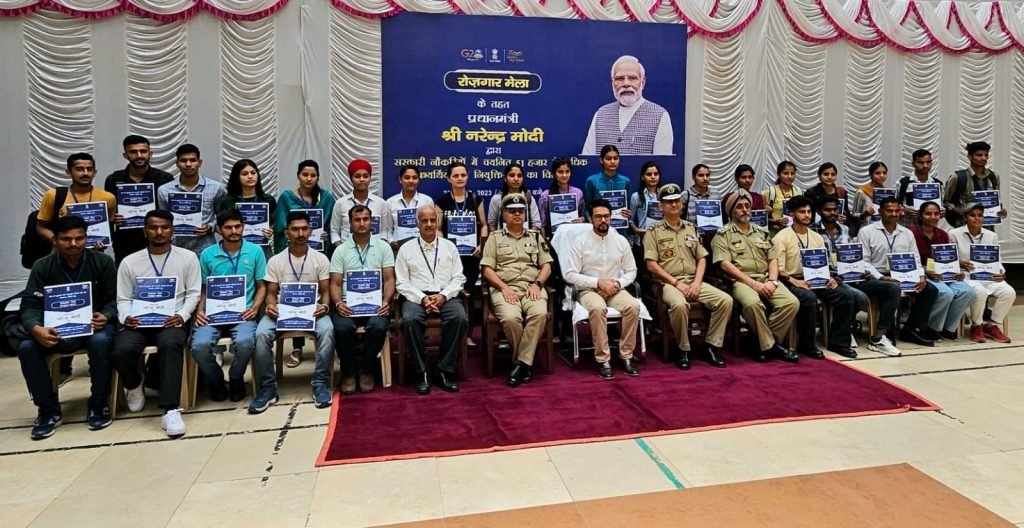 Minister Thakur further emphasized the significance of the ongoing recruitment drive, initiated by various Central Ministries and departments to fill existing vacancies, channeling the energy and talent of the youth. The Rozgar Mela, a significant milestone in this journey, aims to extend its embrace to 10 lakh individuals by the culmination of 2023.
Sh PV Rama Sastry, IPS, Spl. DGBSF Western Command, offered insights into the pivotal role of BSF in border security and civil assistance, highlighting the critical nature of the Western Command's responsibilities. Minister Thakur, during his visit to the BSF campus in Lakhnaur, engaged with sportspersons from the BSF wrestling, handball, and bodybuilding teams. He garnered valuable perspectives for policy enhancement and kindled the spirit of determination among the athletes.
In his concluding remarks, Minister Thakur lauded India's ascent as the 5th largest global economy and drew inspiration from accomplishments like Neeraj Chopra's outstanding feats. He reiterated the commitment to crafting a future of growth and opportunities as the newly inducted recruits embark on their journey within the Central Armed Police Forces under the Ministry of Home Affairs.