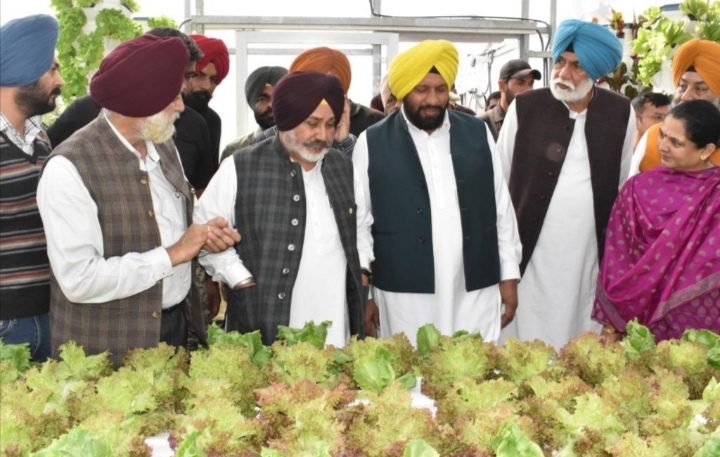 Farmer's income can increase manifold by adopting crop diversification with new techniques: Chetan Singh Jauramajra
Chandigarh, March 02:
In order to fulfill Chief Minister Bhagwant Mann's dream of increasing the income of Punjab farmers, Food Processing and Horticulture Minister Chetan Singh Jauramajra inaugurated a first-of-its-kind multi-purpose grading/sorting line, hydroponic unit and plant health clinic lab in Punjab. He invited the farmers to get out of the traditional crop rotation and adopt crop diversification on a larger scale to reap the maximum benefits of profitable agriculture.
After inaugurating the hydroponic unit and multi-purpose grading/sorting line at the Center of Excellence for Vegetables established here under the Indo-Israel project, Food Processing Minister Chetan Singh Jauramajra said that priority should be given to the cultivation of crops/vegetables with low water consumption. is the main need of the present time. He said that the farmers should leave the traditional crop cycle of wheat-paddy and adopt hi-tech agriculture for which the Punjab government under the leadership of Chief Minister Bhagwant Mann is always ready to provide all possible training and help. He said that this center of the Indo-Israel project will develop as a beacon to encourage farmers to cultivate vegetables through modern technologies.
Food Processing Minister Chetan Singh Jauramajra said that by making farmers more aware of the techniques being adopted at the Vegetable Center of Excellence, they will be linked to profitable agriculture. He said that the horticulture department has initially selected 15 villages of district Jalandhar and Hoshiarpur to bring the center's techniques to the farmers at the village level.
The Horticulture Minister while addressing the farmers also urged them to adopt modern technologies. He also distributed certificates to farmers cultivating vegetables through new technologies. The director of horticulture department Shailandar Kaur said that a large number of farmers have been provided vegetable seedlings from the center of excellence and are cultivating vegetables in their fields using this technology. He said that if farmers adopt Indo-Israeli technologies in their fields, they can get income equal to one acre even from one kanal of land.