First Online Wedding Ceremony in Himachal Pradesh's Kotgarh Village Defies Bad Weather and Sets New Trend
Shimla,
In a first-of-its-kind event in Himachal Pradesh's Kotgarh area of village  Mangsu, a pioneering online marriage ceremony was solemnized today. The couple from Village Mangsu, sub Tehsil Kotgarh, Shimla District weds a gril from SEES village , tehsil Bhuntar of Kullu District, undeterred by the adverse weather conditions, embraced technology to tie the knot and set a new trend in the region. The inclement weather forced them to opt for a virtual wedding ceremony, which was successfully conducted amidst the challenges posed by the bad weather.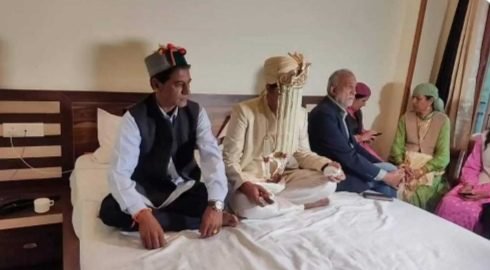 The bride and groom, determined to proceed with their wedding plans despite the unfavorable circumstances, decided to leverage the power of the internet and host their wedding online. This innovative solution allowed them to exchange vows and share their special day with their loved ones, albeit in a digital format.
The inclement weather, characterized by heavy rainfall and hazardous road conditions, prevented the traditional baraat (wedding procession) from proceeding to Kullu, the intended wedding destination. Due to the ongoing landslides and blocked roads, the safety and convenience of the guests became a major concern, necessitating a change in plans.
By embracing technology, the couple not only circumvented the challenges presented by the weather but also ensured the safety and well-being of their guests. The online wedding ceremony provided an alternative platform for their friends and family to witness and celebrate the couple's union, regardless of their physical location.
Ex MLA Sh Rakesh Singha was also in this Barat going to Kullu with 30 people but they we're held up in Bithal on NH 5 and decided to perform marriage online, when it became very difficult to move to Kullu due to bad weather said Mangsu Panchayat Pradha Sh. Sunil Chauhan.
This unprecedented event in Kotgarh area is likely to inspire future couples and communities to explore online wedding options when faced with unforeseen circumstances. The ability to adapt to changing situations and utilize technology creatively has proven to be a valuable tool in overcoming obstacles and ensuring that important life events can still be celebrated, even in challenging times.
*News is to educate the young generation to opt for the technology when things are in dire need. We have to embrace the new trends to save our lives and build the nation.