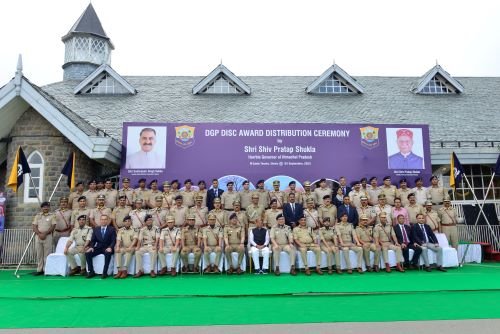 Governor Commends Himachal Pradesh State Police for Exceptional Service during Natural Disasters
In a heartfelt tribute to the valiant efforts of the Himachal Pradesh State Police, Governor Shiv Pratap Shukla lauded their exemplary service during natural disasters, emphasizing the profound impact of their work in evacuating people, including tourists, from affected areas. The Governor's words of praise were delivered during the D.G.P. Disc Felicitation Ceremony held at Shimla's historic Gaiety Theater, where he presented D.G.P. Disc Awards to 334 police personnel for their outstanding contributions in the years 2020, 2021, and 2022. This event marked a significant celebration after a gap of three years.
Governor Shukla highlighted the remarkable achievements of the State Police and State Disaster Response Force, particularly their rescue efforts that saved over 70,000 lives, including foreign tourists, in Kullu alone. Expressing concern about the escalating illegal drug trade, he stressed the challenges it posed and underscored the government's determined efforts to combat this issue. He emphasized the importance of police vigilance and control in curbing anti-social elements within the bounds of the law, safeguarding the youth from the scourge of drug abuse. The State Police's relentless efforts in apprehending drug peddlers resulted in 23 cases of property attachment valued at more than Rs. 13 crore, along with 10 cases referred to the Enforcement Directorate for financial investigation under the Narcotics Act.
Governor Shukla expressed satisfaction with the State Police's tireless work in implementing technology-driven solutions like the Integrated Traffic Management System, leading to a significant reduction in road accidents, injuries, and fatalities in 2023 compared to previous years. He proudly highlighted the State Police's notable achievements, including securing the first position in Passport Verification in India, ranking third in the implementation of the Inter-Operable Criminal Justice System in 2022, and claiming the 11th position in the implementation of the Crime and Criminal Tracking Network System in 2020-2021. Himachal Pradesh Police also earned the distinction of receiving the 'President's Colour,' ranking eighth among state police forces in India, and demonstrating technical prowess in tackling cybercrime.
Director General of Police, Sanjay Kundu, welcomed the Governor and emphasized the adoption of innovative strategies by the state police, with other states following suit. He highlighted the concerted efforts against drug abuse, road accident reduction, organized crime prevention, and the welfare of police personnel. He acknowledged the dedicated work of every police officer in pursuit of these objectives.
Additional Director General of Police, Law and Order, Abhishek Trivedi, extended a vote of thanks during the ceremony, which also featured a performance by the Police Band 'Harmony of Pines.' The event was attended by Mayor of Municipal Corporation Shimla, Surendra Chauhan, Deputy Mayor Uma Kaushal, senior police officers, former officers, and distinguished guests.
The ceremony served as a testament to the unwavering dedication and commitment of Himachal Pradesh's State Police in safeguarding the community and upholding law and order, especially during times of adversity.