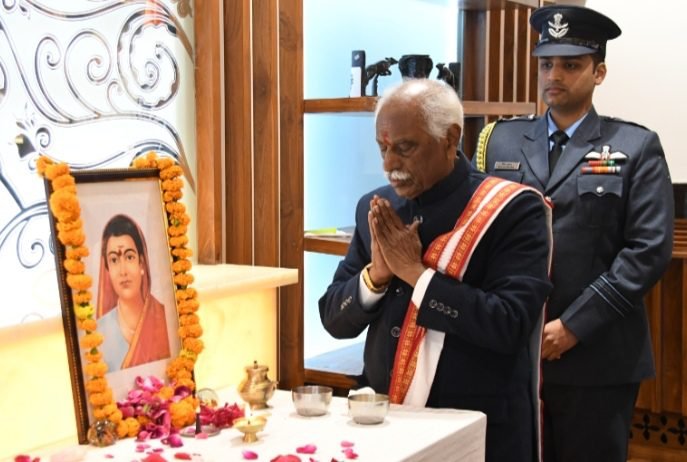 Governor Shri Bandaru Dattatraya paid his humble tribute to Savitribai Phule,
Chandigarh, January 3, 2023:
Haryana Governor Shri Bandaru Dattatraya on Tuesday paid his humble tribute to Savitribai Phule, India's first woman teacher who made seminal contributions to women's empowerment, on her jayanti at Raj Bhavan.
Shri Dattatraya said that Savitribai Phule along with her husband Mahatma Jyotiba Phule bravely fought against untouchability, hegemony, and casteist system and status quoist forces, laying the foundation of a strong and inclusive India.
She encouraged and facilitated the education of women of backward classes, SCs and STs by opening schools for them, thus bringing a new ray of hope in their lives, said Shri Dattatraya.
He said that Savitribai Phule made a path breaking step towards overall empowerment of women in Indian society. She will always inspire us to build a resilient and an all inclusive society, where there is no place for any kind of deprivation and discrimination. 4/4
Shri Dattatraya said that everyone should follow the path shown by Savitribai Phule for women empowerment. She fought for equality for women in every way. Her vision of social reforms was linked to education and economic empowerment of women, he said.
The Governor said that today our thinking towards girls has changed. Earlier girl child was seen as a burden but now as a Mahalakshmi. This is a good omen. Let us work hard for the all round development of women as envisioned by Savitribai Phule to realize the goal of inclusive development, he said.