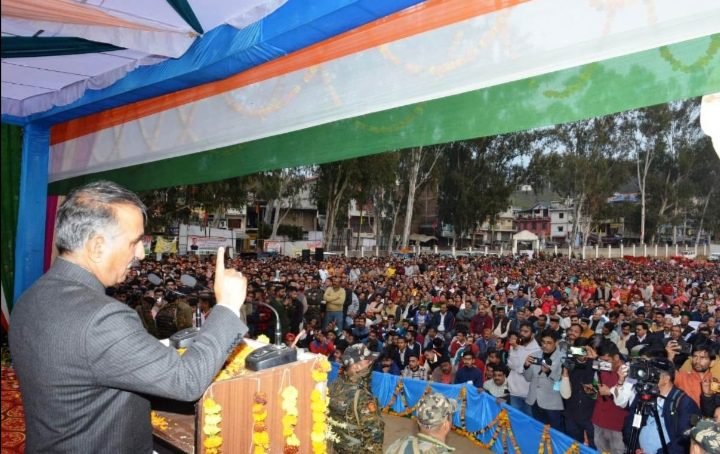 Hamirpur medical college to have nursing college: CM Sukhvinder Singh Sukhu
Makes Connect with people in the local dialect
Making a connect with the people enroute to Hamirpur in local dialect, Chief Minister, Thakur Sukhvinder Singh Sukhu, expressed his gratitude to the people of the region for supporting him unconditionally in his entire political journey.
He was addressing a massive gathering at Nadaun in his home constituency today.
Reiterating his resolve to strengthen the Health, Education and Tourism sectors in the State, Chief Minster said that the Government was committed to work for the welfare of the people and to reach the last man in the queue. There won't be dearth of funds for the construction of Dr. Radhakrishnan Medical College in Hamirpur and the hospital would be equipped with the latest technology, and would be converted into the model health institution of the State. A nursing college would also be opened in the premises of the medical college, besides adequate staff would be deputed so that the people get the best treatment.
Warning the different mafias prevalent in the State, Chief Minster said that, our Government would not tolerate this menace and clearly signified his intentions to crack down heavily on the drug and mining mafia. "Our Government will ensure that the youth of the State were not cheated in the name of Jobs. The suspension of the Himachal Pradesh Staff Selection Commission was a first step in the direction, sending a clear signal that those trying to play with the future of the youth won't be spared.
My Governments first Budget will be people-centric and the interest of people would be taken care of, said the Chief Minister, adding that the Government was ensuring financial discipline keeping in mind the overall fiscal position of the State and few stringent decisions will have to be taken to bring it back on the track.