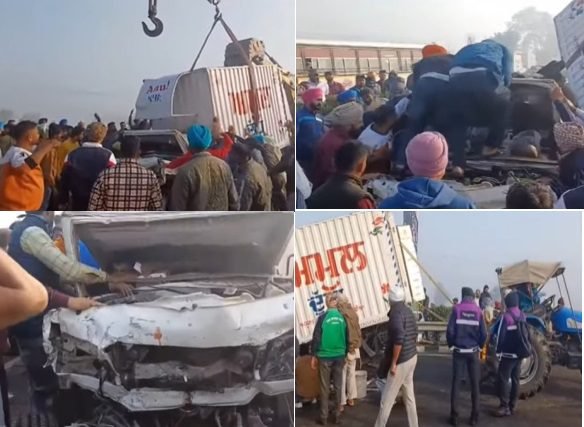 Heavy Fog Causes Major Car Crash in Punjab
Khanna, Punjab, India – November 13, 2023 – A major car crash occurred on the Delhi-Amritsar National Highway in Khanna district of Punjab on the morning of November 13, 2023. The crash involved 20 to 25 vehicles, which collided due to dense fog.
The fog is believed to have been caused by the burning of crop residue and firecrackers on Diwali night. Several people were injured in the crash, and several vehicles were damaged.
Punjab Chief Minister Bhagwant Mann took to social media to express his concern for the victims of the crash. He wrote, "A major accident occurred near Samrala this morning due to dense fog, in which several vehicles collided. There are reports of several people being injured. I have asked the administration to provide immediate assistance to the injured. I am in constant touch with the administration. I also appeal to the people to drive carefully as the fog will increase in the coming days."
---
Punjab Chief Minister Bhagwant Mann on Monday expressed deep shock and anguish over a tragic road accident near Samrala due to heavy fog thereby injuring several commuters.
The Chief Minister bemoaned that due to fog several vehicles had collided with each other on Monday morning due to which a number of commuters were injured. Bhagwant Singh Mann said that he had already directed the district administration to provide free treatment to all the injured. He said that he was constantly in touch with the administration and was regularly monitoring the situation.  Meanwhile, in wake of foggy days ahead, the Chief Minister exhorted the people to drive their vehicles cautiously so as to avoid any sort of loss of life and property.
---
The accident occurred over a stretch of about 20-25 kilometers. The fog was already thick in several districts of Punjab due to crop residue burning. However, the fog was further worsened by firecrackers on Diwali night, which made it difficult to see. This led to the major crash.
Some of the injured in the crash are in serious condition and have been referred to other hospitals. A Punjab Roadways bus was also involved in the crash.
The crash is a reminder of the dangers of driving in dense fog. Drivers should be extra cautious when driving in foggy conditions and should use their headlights and fog lights.