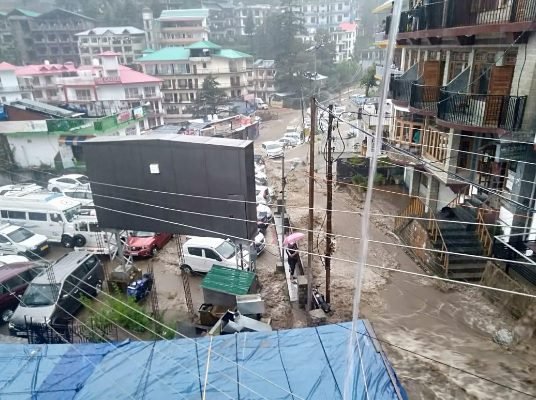 Heavy to very heavy rainfall is predicted in Himachal till 10 th of July
Dharamsala (Arvind Sharma)6/7/22
The Southwest Monsoon was strong over the state during the last 24 hours. Heavy to very heavy rainfall is predicted in Himachal till 10 th of July. The Meteorological Centre in Himachal has feared that this heavy monsoonal rain in HP , can cause the disruptions of essential services viz. water and electricity, communications and related services.
The Centre said that the visibility conditions may be decreased during this period and there is a large Possibility of Landslides due to heavy rainfall and heavy to very heavy rainfall in hilly regions.
The Meteorological Centre has advised the public to follow the advisories and guidelines issued by the concerned departments and to take adequate safety measures.
Rainfall recorded on the night between 5 th and 6th July in Himachal :-Tattapani-103, Berthin-95, Sunni-90, Mashobra-82, Kufri-81, Berthin Agro-79,Baldwara-78, Kahu-77, Dharmshala-76, Jhandutta-70, RL 1700-64, Bilaspur-63, Narkanda-61, Shillaro-57, Renuka-57, Manali-55, Rampur & Palampur-52 each, Ghumarwin-50, Jubbal Hatti-48 and  Naina Devi-47mm.