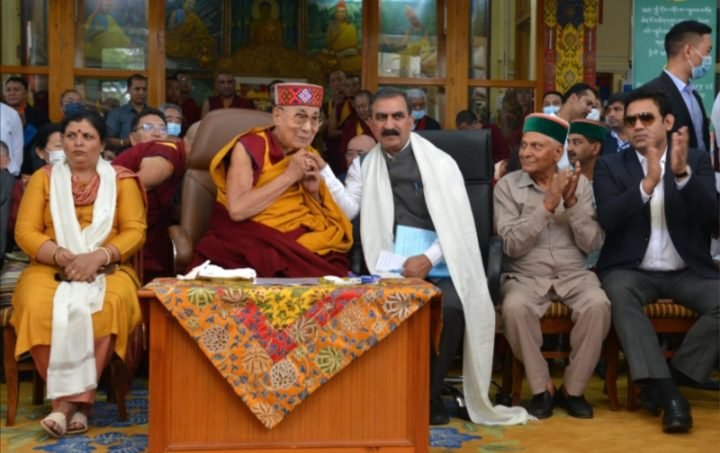 Himachal C M Sukhvinder Singh Sukhu attended the birthday celebrations of Dalai lama
PM India wished Dalai lama on His Birthday
Dharamsala (Arvind Sharma) 6/7/23
The Office of the Dalai Lama said that Sh Narender Modi PM of India spoke to HH the Dalai Lama this morning and conveyed heartfelt greetings to Him on His 88 th Birthday, Wishing him a long and healthy life. .
The Tibetan establishment is exile and Tibetans in exiled celebrated the occasion in main temple of The Dalai Lama at Mcleodganj.The Dalai lama was himself present in this function
Himachal Chief Minister Sukhvinder Singh Sukhu attended the birthday celebrations this morning in Dharamsala.
The CM of Himachal said that the people of the Tibetan community and Himachal Pradesh have a deep-rooted relationship, spanning a remarkable 75 years. He highlighted the harmonious co-existence between the two communities and assured that the State Government would extend a helping hand towards the welfare of the Tibetan community.
The Dalai Lama's life journey is replete with unwavering dedication and struggles. He exhorted everyone to draw inspiration from the teachings and experiences of the Dalai Lama, urging them to incorporate his thoughts into their own lives and lead on the path of spirituality.
Recognizing the Dalai Lama as an embodiment of non-violence, compassion, and brotherhood, the Chief Minister said that the Dalai Lama is known as a harbinger of love, peace, and fraternity worldwide. He commended the Dalai Lama's tireless advocacy for the rights of Tibet and its people. In recognition of his efforts, the Dalai Lama has been honoured with the Nobel Peace Prize, he said.
World celebrates His Holiness the Dalai Lama's 88th birthday today, the 6th July 2023 . The Tibetan government and the Parliament in exile have also issued their statements on this occasion from Dharamsala.
The 14th Dalai Lama , known to the Tibetan people as Gyalwa Rinpoche, is the current Dalai Lama of . The 14th Dalai Lama was born to a farming family in Taktser (Hongya Village), in the traditional Tibetan region of Amdo .] He was selected as the tulku of the 13th Dalai Lama in 1937 and formally recognised as the 14th Dalai Lama in a public declaration near the town of Bumchen in 1939 and he eventually assumed full temporal (political) duties on 17 November 1950, at the age of 15 .
Subsequent to the annexation of Tibet by the People's Republic of China, during the 1959 Tibetan uprising, the Dalai Lama escaped to India, where he currently lives in exile.
On 29 April 1959,The Dalai Lama established the independent Tibetan government in exile in the north Indian hill station of Mussoorie, which then moved in May 1960 to Dharamshala in Himachal . He retired as political head in 2011 to make way for a democratic government.