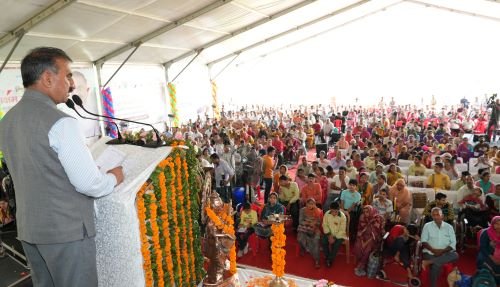 Himachal Pradesh Chief Minister Launches SABAL Scheme for Specially-Abled Children, Introduces Innovative Educational Initiatives

CM Sukhvinder Singh Sukhu Unveils 'Abhyas Himachal,' 'Shikshak Sahayata' Chatbots, and 'Sampark Science TV Programe,
Hamirpur, Himachal Pradesh – September 4, 2023
In a significant move to empower specially-abled children and revolutionize education, Chief Minister Thakur Sukhvinder Singh Sukhu inaugurated the Mukhya Mantri Sporting Abilities, Rebuilding Aspirations and Livelihood Scheme (SABAL) in the Nadaun assembly segment of Himachal Pradesh's Hamirpur district. This scheme aims to provide crucial support to specially-abled children across 400 schools in Hamirpur, Solan, and Shimla districts.
Educational Innovations Unveiled:
Simultaneously, the Chief Minister introduced two groundbreaking educational tools, 'Abhyas Himachal' and 'Shikshak Sahayata,' both accessible through the Swift Chat app. These user-friendly chatbots, powered by conversational Artificial Intelligence, enable students to conveniently revise lessons and access educational videos from their mobile devices. Designed with a quiz-based format, these tools promise to enhance the learning and teaching experience in classrooms.
Furthermore, the Chief Minister launched the "Sampark Science TV Program," offering a unique solution to transform standard televisions into Smart TVs. The initiative provides preloaded educational content, eliminating the need for an internet connection. This innovation is set to enrich children's learning experiences, especially in subjects like mathematics and English.
Commitment to Specially-Abled Children:
Chief Minister Sukhu reaffirmed his government's commitment to specially-abled individuals by announcing an increase in the education stipend for them to Rs. 1000. Additionally, the state government has reserved two percent of government job positions for specially-abled individuals, with recruitment slated to commence soon.
Transparency in Recruitment:
Addressing the need for transparent recruitment processes, Chief Minister Sukhu announced the establishment of 'Rajya Chayan Aayog' to replace the controversial Staff Selection Commission within the next two months. This move aims to ensure merit-based selection and eliminate corruption that plagued the previous system. The new commission is expected to recruit 6000 teachers, 3000 Van Mitra for the Forest Department, and 1200 personnel for a specialized police task force dedicated to combating drug trafficking. Over 10,000 recruitments are planned by the state government this year.
Infrastructure and Aid:
The Chief Minister also allocated Rs. 5 crore for the construction of a DIET Girls Hostel in Gauna, Nadaun, and announced plans for a modern stadium equipped for sports such as shooting, boxing, and swimming. He emphasized the strengthening of healthcare services with the deployment of six specialist doctors in each of the 32 assembly segments.
Challenges Amid Financial Crisis:
Acknowledging the economic challenges inherited from the previous government, Chief Minister Sukhu expressed his commitment to assisting those affected by disasters. Despite facing losses exceeding Rs. 12,000 crores due to recent monsoon devastation, the state government is determined to rebuild damaged homes and fulfill all its guarantees in the coming years.
Call for Central Assistance:
Sukhu criticized the opposition for failing to secure financial assistance from the central government to address the monsoon-related losses, despite the state's plea to declare it a national calamity. The Chief Minister reiterated the state government's resolve to rebuild and provide aid using its own resources.
Empowering Special Abilities:
During the event, Chief Minister Sukhu distributed special equipment to more than 120 specially-abled children in collaboration with Sarv Shiksha Abhiyan and Sampark Foundation, underscoring the government's commitment to empowering individuals with special abilities.
Transforming Education:
Education Minister Rohit Thakur highlighted Himachal Pradesh's commitment to delivering quality and employable education. Initiatives like Rajiv Gandhi Day Boarding Schools and the YS Parmar Scholarship Scheme aim to revolutionize education and enhance employment prospects for students. New technical courses have also been introduced to bolster skill development.
Inclusion for a Brighter Future:
Chief Parliamentary Secretary Ashish Butail emphasized that the SABAL Scheme's launch is a step toward integrating specially-abled children into the mainstream and improving their future livelihood prospects. The state government remains dedicated to empowering over 7,000 specially-abled children across Himachal Pradesh.
Chief Minister Sukhvinder Singh Sukhu's comprehensive initiatives aim to uplift specially-abled children, enhance educational accessibility, ensure transparent recruitment, and empower the youth of Himachal Pradesh, even in the face of economic challenges. These efforts signify a determined commitment to fostering a brighter and more inclusive future for the state's residents.