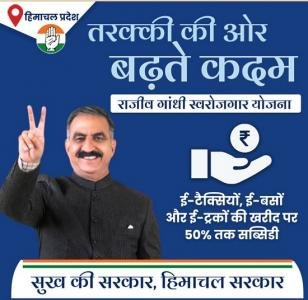 Himachal Pradesh Launches Rajiv Gandhi Swarojgar Yojna: Empowering E-Mobility and Employment
Himachal Pradesh, August 25, 2023:
With a dual focus on generating employment opportunities and curbing vehicular pollution, the State Government is set to roll out the ambitious Rajiv Gandhi Swarojgar Yojna starting October 2, 2023. The comprehensive standard operating procedure (SOP) has been established, providing various government bodies, local authorities, autonomous entities, corporations, and more, the chance to adopt e-taxis for an initial four-year period, extendable by an additional two years.
In a strategic move towards sustainable mobility, Chief Minister Thakur Sukhvinder Singh Sukhu emphasized that Himachal Pradesh was positioned to become a model state for electric vehicles (EVs). The collaboration between the private and public sectors aims to reduce carbon emissions and establish the state as a leader in the EV transition. The first phase includes the development of six green corridors to strengthen the EV infrastructure and minimize fossil fuel dependence.
The scheme offers interested individuals the opportunity to purchase e-taxis and partner with government organizations. The application process involves submitting an online request through the transport department's dedicated portal, following the prescribed format. The Regional Transport Office (RTO) will then review the documents, addressing any discrepancies within five days. Failure to rectify issues within the stipulated time will result in application rejection. Once eligible beneficiaries are finalized, the State Transport Authority will grant permission for e-taxi procurement.
Customer agencies will submit their e-taxi demand online to the transport department. The scheme introduces five categories for e-taxi hiring, tailored to organizational needs. Applicants can secure vehicle loans through banks or their own means.
The Chief Minister reaffirmed the state's commitment to transforming Himachal Pradesh into a Green Energy State by March 31, 2026. Initiatives like e-vehicles play a pivotal role in this endeavor. The transport department has already integrated e-vehicles, and a phased plan is underway to replace the current fleet of 1500 diesel buses with e-buses.
To facilitate the adoption of e-vehicles, the State Government has allocated funds for a 50 percent subsidy on e-taxi, e-bus, and e-truck purchases. This financial incentive aims to encourage unemployed youth to invest in e-vehicles, creating avenues for sustainable livelihoods.
The launch of the Rajiv Gandhi Swarojgar Yojna underscores Himachal Pradesh's commitment to innovation, employment generation, and ecological preservation, positioning the state as a beacon of progress in the realm of e-mobility.