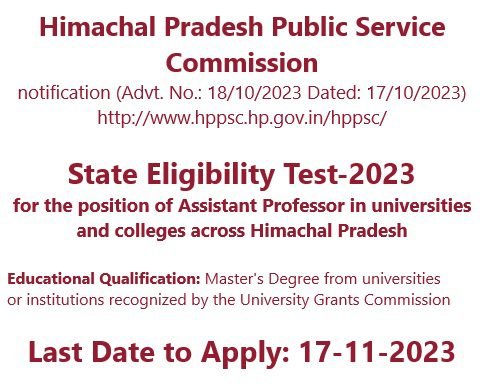 Himachal Pradesh Public Service Commission (HPPSC) State Eligibility Test-2023 for Assistant Professor Posts
Himachal Pradesh Public Service Commission (HPPSC) State Eligibility Test-2023 for Assistant Professor Posts
The Himachal Pradesh Public Service Commission (HPPSC) has released a notification (Advt. No.: 18/10/2023 Dated: 17/10/2023) inviting eligible candidates to apply for the State Eligibility Test-2023 for the position of Assistant Professor in universities and colleges across Himachal Pradesh. This is an excellent opportunity for those aspiring to become Assistant Professors in the state. Below, we provide a comprehensive overview of the essential details:
Position: Assistant Professor
Number of Posts: The exact number of vacancies is specified in the official notification.
Eligibility Criteria:
Educational Qualification: Candidates must hold a Master's Degree from universities or institutions recognized by the University Grants Commission (UGC) in the relevant discipline. For specific details, please refer to the official notification.
Age Limit: The age limit is as per the guidelines mentioned in the official notification.
Application Fee:
– General Category Candidates: Rs. 1150/-
– Gen.-EWS/Other Backward Class (Non-Creamy Layer) of H.P. Candidates: Rs. 600/-
– SC of H.P., ST of H.P., BPL (General BPL/SC BPL/ST BPL of H.P), PWD (General PWD/S.C. PWD/ S.T. PWD, OBC PWD) of H.P., and EWS BPL of H.P.: Rs. 325/-
– The application fees can be paid through online mode.
Test Subjects:
The State Eligibility Test will be conducted in 24 subjects. These subjects are:
1. Chemical Sciences
2. English
3. Life Sciences
4. Commerce
5. Economics
6. Geography
7. Hindi
8. History
9. Mathematical Sciences
10. Music
11. Physical Sciences
12. Physical Education
13. Sociology
14. Sanskrit
15. Political Science
16. Public Administration
17. Computer Science and Applications
18. Tourism Administration and Management
19. Mass Communication and Journalism
20. Philosophy
21. Psychology
22. Education
23. Environmental Sciences
24. Home Sciences
Important Dates:
Last Date to Apply: 17-11-2023
How to Apply:
Interested candidates should apply for these positions online, following the prescribed format on the official website of the Himachal Pradesh Public Service Commission. It is advisable to apply well in advance to avoid any last-minute rush. Prior to applying, candidates are strongly encouraged to thoroughly read and understand the detailed instructions provided in the official notification.
For more specific information regarding additional post details, eligibility criteria, age relaxation, application fees, and the application process, please refer to the official advertisement.
This is a significant opportunity for those looking to join the teaching profession in Himachal Pradesh, and eligible candidates are urged to apply as per the given instructions before the closing date.