Himachal Pradesh Tourism Development Corporation (HPTDC) Launches Special Karva Chauth Package
Himachal Pradesh Tourism Development Corporation (HPTDC) Launches Special Karva Chauth Package
The Himachal Pradesh Tourism Development Corporation (HPTDC) has launched a special package for Karva Chauth, the Hindu festival celebrated by married women for the longevity of their husbands. The package is valid for couples staying in any HPTDC hotel on November 1, 2023.
A Romantic Getaway in the Himalayas
HPTDC hotels offer stunning views of the Himalayas and provide a perfect setting for a romantic getaway on Karva Chauth. Couples can enjoy the cool mountain air, the lush green valleys, and the snow-capped peaks. They can also indulge in a variety of activities, such as hiking, trekking, and visiting local temples and monasteries.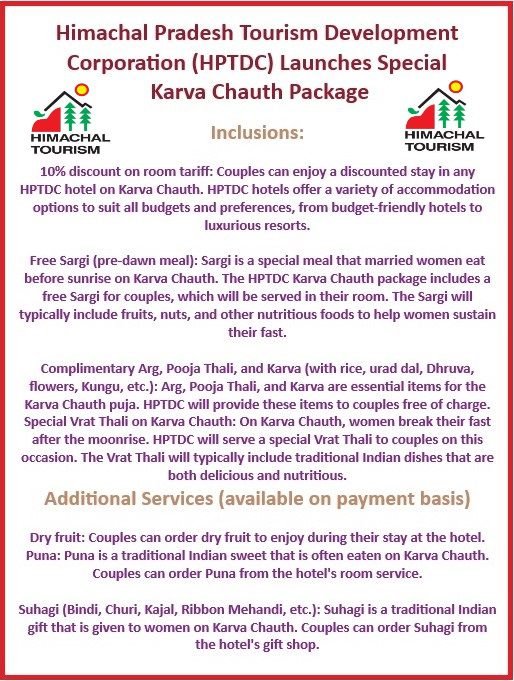 Traditional Rituals and Delicious Food
The HPTDC K
arva Chauth package includes a variety of traditional rituals and delicious food. Couples will be provided with a free Sargi (pre-dawn meal) on the day of the festival. They will also be given a complimentary Arg, Pooja Thali, and Karva (with rice, urad dal, Dhruva, flow
ers, Kungu, etc.) for the Karva Chauth puja.
On Karva Chauth, women break th
eir fast after the moonrise. HPTDC will serve a special Vrat Thali to couples on this occasion. The Vrat Thali will typically include traditional Indian dishes that are both delicious and nutritious.
Additional Services
In addition to the inclusions mentioned above, the HPTDC Karva Chauth package also offers a variety of additional services on payment basis. Couples can order dry fruit, Puna (a traditional Indian sweet), and Suhagi (a traditional Indian gift) from the hotel's room service or gift shop.
Book Your Stay Today
Couples are encouraged to book their stay early, as the HPTDC Karva Chauth package is very popular. To book the package, couples can visit the HPTDC website or call 1800-180-4567.
Celebrate Karva Chauth in Style with HPTDC
The HPTDC Karva Chauth package is the perfect way to celebrate this auspicious occasion with your loved one. Enjoy the stunning scenery, the peaceful atmosphere, the delicious food, and the traditional rituals. HPTDC hotels will make your Karva Chauth celebration truly unforgettable.