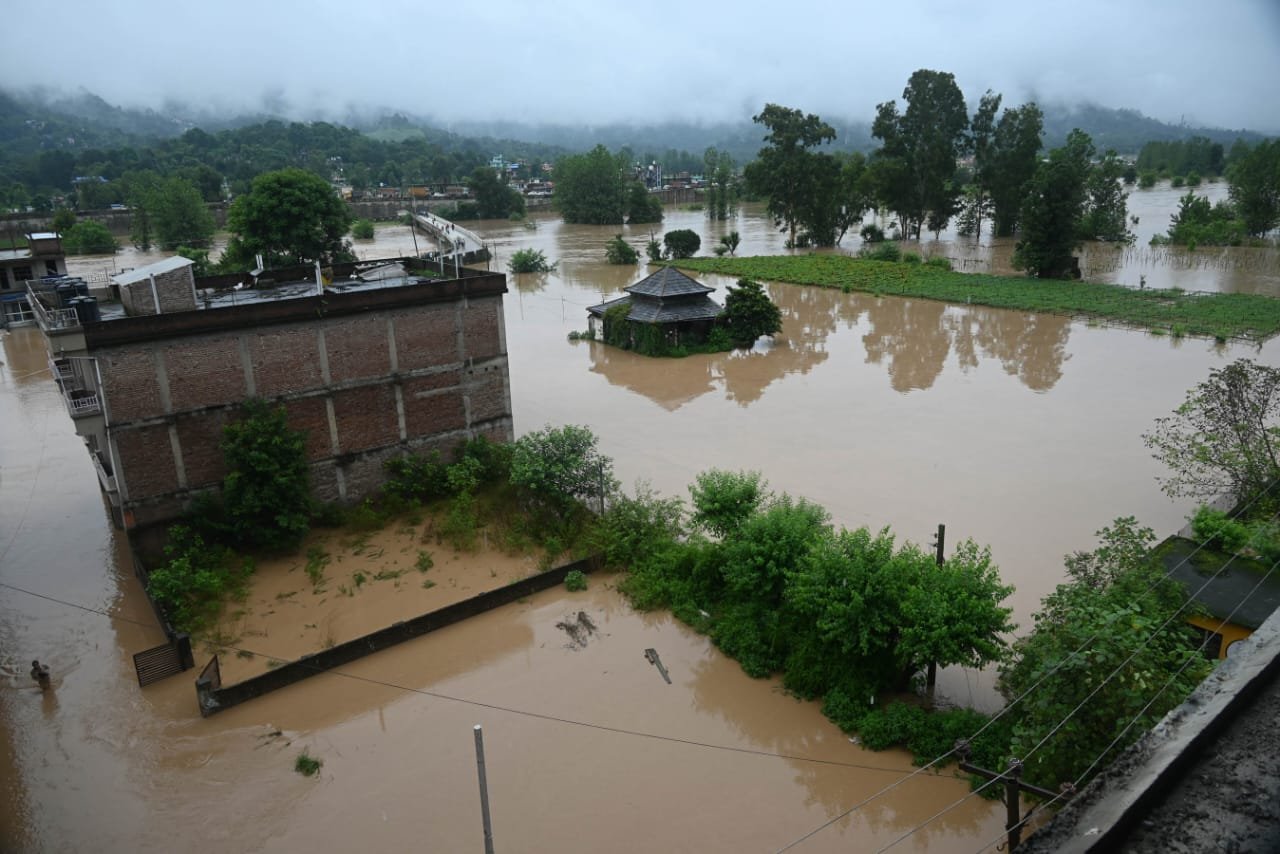 Himachal Pradesh's Balh Valley Witnessing Flood-Like Situation; Statewide Heavy Rains to Continue Till Aug 14
In a concerning turn of events, Himachal Pradesh's Balh Valley is currently grappling with a flood-like situation brought on by relentless heavy rains. The deluge has wreaked havoc across the state, causing widespread disruption and raising questions about the efficacy of the administration's response to the crisis.
The continuous downpour has led to landslides, overflowing rivers, and waterlogging in several areas, leading to the disruption of normal life and posing significant challenges to the local authorities. Amidst this turmoil, the adequacy of the state's disaster management measures has come under scrutiny.
One of the pressing concerns voiced by residents and observers is the apparent absence of substantial monetary support from the central government. Despite the gravity of the situation, the lack of immediate financial assistance from the center has prompted questions about their stance and commitment to aiding the state during this crisis.
A particularly striking revelation is the limited resources available for rescue and relief efforts. Reports suggest that the state government possesses only one helicopter, which incidentally belongs to the Chief Minister, Sukhvinder Sukhu. This solitary aircraft, at the disposal of the administration, underscores the glaring need for a dedicated rescue operation team equipped with the necessary tools and resources to effectively assist those in need during times of catastrophe.
अविरत मूसलाधार बारिश के कारण हिमाचल प्रदेश की बल्ह घाटी में बाढ़ की तरह की स्थिति उत्पन्न हुई है।
बाढ़ ने राज्य भर में विस्तारित विघटन उत्पन्न किया है, जिससे प्रशासन की प्रतिक्रिया की प्रभावकारिता पर सवाल उठ रहे हैं।
लगातार बरसात के कारण भूस्खलन, ओतप्रोत नदियों की बढ़ती धारा, और कई क्षेत्रों में जलभराव हुआ है, जिससे सामान्य जीवन में विघटन हो रहा है।
इस संकट के बीच, राज्य के आपदा प्रबंधन के उपायों की प्रभावकारिता पर सवाल उठा है।
स्थिति की गंभीरता के बावजूद, केंद्र से तुरंत वित्तीय सहायता की कमी ने उनके प्रतिष्ठान और राज्य की मदद करने की प्रतिबद्धता पर सवाल उत्पन्न किया है।
एक विशेष आवश्यकता है, उपयुक्त उपकरण और संसाधनों से युक्त एक विशिष्ट बचाव और राहत प्रयास टीम की।
हिमाचल प्रदेश में बारिश का अब तक आगे बढ़ने के चलते, आगामी समय में चुनौतियाँ आगे बढ़ती रहेंगी।
In a commendable display of leadership, Chief Minister Sukhvinder Sukhu has stepped up by offering his helicopter to support the rescue and relief operations. This gesture highlights the urgent requirement for bolstering the state's disaster management infrastructure, including the establishment of a robust rescue operation team equipped with helicopters, boats, and other essential equipment.
As heavy rains continue to lash Himachal Pradesh, the challenges ahead remain formidable. The inundated Balh Valley and the affected regions statewide necessitate coordinated efforts from both state and central authorities to mitigate the impact of this crisis and provide much-needed relief to the affected population.
The devastation caused by the flooding extends beyond immediate infrastructure and rescue concerns. The state's cash crops have been obliterated by the unrelenting rains, spelling catastrophe for local farmers. Additionally, crucial road networks have been severely damaged, rendering farmers unable to transport and sell their remaining produce. This dual blow to the agricultural sector threatens to deal a significant blow to the state's economy.
With the situation expected to persist until at least August 14, it is crucial for the administration to proactively address the concerns raised by the residents and ensure that relief measures are efficiently deployed. The people of Himachal Pradesh look towards their leaders to collaboratively work towards the welfare of the state and its residents during this challenging time.