Himachal Pradesh Disturbed by Rainfall-Chief Minister Appeals to Take Care
Dear residents of the state,
There have been reports of significant damage in various areas of the state due to heavy rainfall. Rivers and drains are overflowing, and there is a risk of landslides, rockfalls, and tree collapses. This situation is expected to continue for the next two days. If it is not essential, please refrain from going outside your homes. The administration has been instructed to provide all possible assistance for the convenience of the public and to remain vigilant. The government stands with you at all times.
बारिश से हिमाचल त्रस्त, मुख्यमंत्री ने अपना ख्याल रखने की अपील की
प्रिय प्रदेश वासियों,
प्रदेश में भारी बारिश के कारण कई जगहों पर नुकसान की खबर है । नदी नाले उफान पर है। पहाड़ों ,चट्टानों और पेड़ों के गिरने का डर है। यह क्रम अभी दो दिन तक और जारी रहेगा । ज्यादा जरूरी काम ना हो तो घर से बाहर ना जाएं। जनता की सुविधा के लिए प्रशासन को हर संभव सहायता प्रदान करने और सतर्क रहने के आदेश दे दिए गए हैं । सरकार हर वक्त आपके साथ खड़ी है।
अपना ख्याल रखें और साबधान रहें।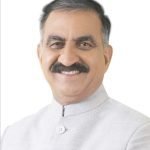 ठाकुर सुखविंदर सिंह (सुक्खू)
मुख्यमंत्री हिमाचल प्रदेश।