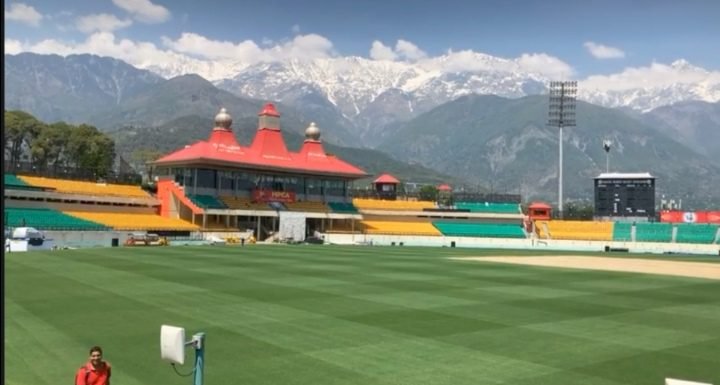 HPCA Dharamshala ready to host 5 prestigious World Cup matches on a newly laid outfield ,in OCT 2023
Dharamsala (Arvind Sharma) 28/6/23
The HPCA team is incredibly excited and thrilled about the recent news and schedule for the upcoming World Cup. Five prestigious matches have been announced at our venue, where eight test-playing nations will be participating. This is a historic moment for HPCA, marking another feather in our cap and a significant milestone in our incredible journey over the past 20 years.
In a press release today, Avnish Parmar, Secretary of HPCA, proudly claimed that the HPCA Cricket Stadium in Dharamsala boasts the best infrastructure and facilities for the game in the country. He expressed deep gratitude to the BCCI and ICC for granting us this prestigious opportunity to host the WC 2023 matches. Parmar also extended thanks to BCCI President Roger Binny and Hony Secretary Jay Shah for selecting Dharamsala as one of the tournament's centers.
Parmar highlighted the improvements made to the ground, including the installation of the SIS Air, a state-of-the-art air evacuation system. The HPCA stadium now features a combination of stunning cold-season Ryegrass and shade-tolerant fine leaf Paspalum grass, along with a robust drainage system suitable for Dharamsala's weather conditions. These enhancements have transformed the ground into one of the most advanced cricket venues.
The air evacuation system not only swiftly removes excess rainwater but also aerates the root zone, ensuring the health of the plants throughout. Parmar shared that SIS Air is a technology developed by SIS Pitches, a reputable company based in Holland and the UK. Ryegrass was initially seeded during winter temperatures ranging from 3° to 15°, and later Paspalum was introduced to withstand high summer temperatures while maintaining shade tolerance.
With nine wickets and an outfield capable of handling any amount of rain, the game can be resumed within 15 minutes. This is a significant improvement compared to the time it takes to put on and remove wicket covers at many other centers across the country.
"We are very excited at this huge opportunity and are ready to host these 5 big games featuring 8 test playing nations for the first time in an 50 over format, the biggest arena for cricket (one day matches)," Said Avnish Parmar, Secretary HPCA .
He added , "We are very confident and hopeful that the players from the 8 countries , visitors , fans and Media will have a Very good memorable time at Dharamshala during the world cup and this will surely help to boost tourism in a big way and firmly put Himachal and Kangra on the world map."
Stadium photo by arvind sharma