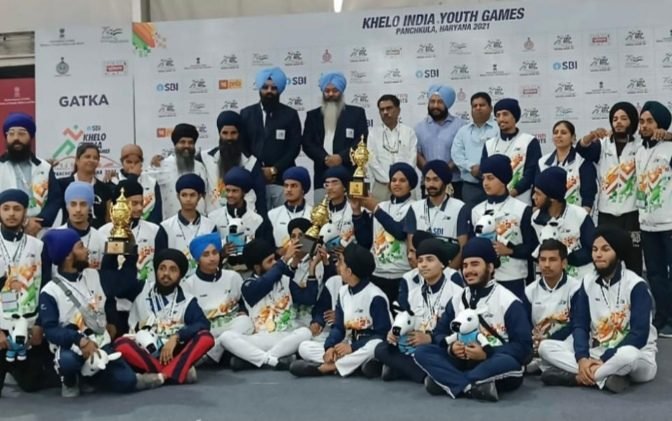 Khelo India Youth Games: Punjab boys and Chandigarh girls wins in Gatka competition
 250 Gatka players from 16 states competed for 64 medals during three days event
For the first time, scoring and results of Gatka competitions displayed live on scoreboard
Chandigarh, June 8 :
In the 4th edition of Khelo India Youth Games organized by the Union Ministry of Sports and Youth Services at Panchkula, Haryana, Punjab won the overall championship in boys category, while Haryana finished second and New Delhi got third position. In girls' category, Chandigarh won the overall championship while Punjab came second and New Delhi girls third.
Under the aegis of the country's oldest registered Gatka organization, National Gatka Association of India (NGAI), more than 250 Gatka players from 16 different states competed to win medals in this three-days national Gatka competition.
Giving this information during a media interaction here on Tuesday, Dr. Pritam Singh, Director Sports, Chandigarh University, Gharuan, Mohali, who was Gatka Competition Manager, for the Khelo India Games, said these Gatka competitions were meticulously planned under the supervision of NGAI President Harjeet Singh Grewal. "There was unmatched enthusiasm among the Gatka players of different states and all the referees including the judgment team of the Gatka Association performed their duties as per rules.
He informed that for the first time in the history of Gatka, a computerized program was developed and implemented to provide live scoring of matches and results were displayed simultaneously on the digital scoreboard for the spectators. This all credit goes to the NGAI and its president Harjeet Singh Grewal who has worked tirelessly to get designing of this computerized program costing Rs 5.50 lakhs.
The results of this Gatka competitions were as follows :
Gatka Single Soti Individual Event (Boys): Gursagar Singh of Punjab, winner, Parspreet Singh of Haryana got second position while Iqmeet Singh of Jammu and Kashmir and Tej Pratap Singh Jassar of Chandigarh shared third position jointly.
Gatka Farrie Soti Individual Event (Boys): Viru Singh of Punjab secured first position, Ranbir Singh of Chhattisgarh second, while Manjot Singh of New Delhi and Yuvraj Singh of Gujarat secured the joint third position.
Gatka Soti Team Event (Boys): Haryana's Inderjit Singh, Krish and Jashanpreet Singh bagged first place, Chandigarh's Gurcharan Singh, Jeevanjot Singh and Tej Pratap Singh Jassar secured second, whereas Andhra Pradesh's Merugu Mahendra, Mupalna Venkatesh and Durga Prasad while New Delhi's Amarjeet Singh, Navjot Singh and Manpreet Singh declared joint third winners.
Gatka Farrie Soti Team Event (Boys): Arshdeep Singh, Amardeep Singh and Bhupinderpal Singh of Punjab achieved first position, Maganjot Singh, Taranjit Singh and Harnek Singh of New Delhi secured  second while Prabhjot Singh, Gurleen Singh, Manmrit Singh of Jammu and Kashmir and Chhattisgarh's Ranveer Singh, Gurkeerat Singh and Anshdeep Singh jointly finished third place.
Girls: In Gatka Soti Individual event, Ravleen Kaur of Chandigarh secured first position, Ajmeet Kaur of Haryana got second, while Payal Kaur of New Delhi and Vijay Lakshmi of Maharashtra secured joint third position. In Gatka Farrie Soti Individual event Sumandeep Kaur of Punjab got first place, Arshdeep Kaur of Chandigarh got second while Bhavika of Rajasthan and Manpreet Kaur of New Delhi got joint third position.
In Gatka Soti team event, Chandigarh's Ravleen Kaur, Gurnoor Kaur and Arshdeep Kaur bagged first, Haryana's Jaskirat Kaur, Harpreet Kaur and Bhanu got second, New Delhi's Gurmeet Kaur, Jashanpreet Kaur, Ikjot Kaur and Punjab's Kamalpreet Kaur, Jaspreet Kaur and Preneet Kaur shared the third position jointly.
In Gatka Farrie Soti Team event, Harmeet Kaur, Randeep Kaur and Birpal Kaur of Punjab bagged first, Harshdeep Kaur, Khushi Kaur and Harshpreet Kaur of New Delhi got second whereas Srishti Khanna, Simardeep Kaur, Harleen Kaur of Uttarakhand and Janhvi Khishte, Nandni Narayan Parde and Shubhangi Ambure from Maharashtra shared the third position jointly.