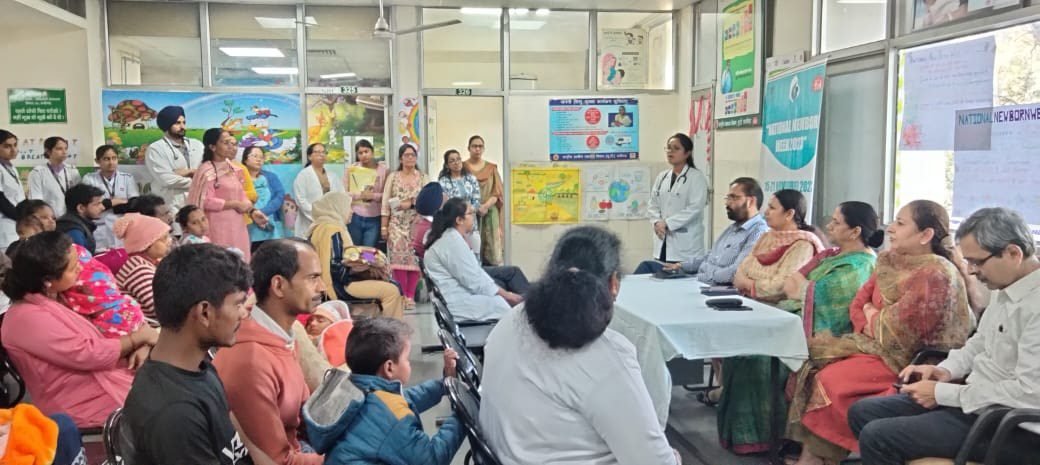 Newborn Week Celebrations Begin in U.T Chandigarh
Newborn Week Celebrations Begin in U.T Chandigarh
Chandigarh (India) – Newborn Week celebrations kicked off today in U.T Chandigarh with the theme "Nurturing Newborn Lives through Community-Facility Engagement". The week-long activities will focus on various aspects of newborn care, including quality, safety, and linkage of newborn care at the facility level and community level. The aim is to raise awareness about newborn care for survival and development.
Key Highlights of the Launch Event
Launch of IEC material of National Newborn Week and SAANS (Social awareness and action to neutralize pneumonia successfully)
Awareness generation campaign in the Department of Pediatrics, GMSH-16, U.T Chandigarh
Distribution of certificates to mothers who initiated early breastfeeding within 1 hour of delivery
Skit organized by nursing students to create awareness on the benefits of breastfeeding and prevention of childhood pneumonia
Talk by pediatricians from the Department of Pediatrics, GMSH-16, on the benefits of breastfeeding to the newborn and to the mother
Encouragement for mothers to practice kangaroo mother care
Dispelling of myths and misconceptions about breastfeeding
MCP card counseling to encourage mothers and families to participate in the healthy development of the newborn
Importance of Newborn Care
Newborn care is critical for the survival and development of babies. In India, an estimated 750,000 newborns die every year, many of which can be prevented through proper care. The first 28 days of life are especially important, as this is when babies are most vulnerable to death and illness.
Benefits of Breastfeeding
Breastfeeding is the best way to feed babies, providing them with the nutrients they need to grow and develop. It also helps to protect babies from illness. Early breastfeeding, within 1 hour of delivery, is especially important for establishing a strong breastfeeding relationship.
Prevention of Childhood Pneumonia
Pneumonia is the leading cause of death among children under 5 years old in India. It is important to take steps to prevent pneumonia, such as practicing good hygiene and ensuring that children are vaccinated.
Community and Facility Engagement
The theme of Newborn Week 2023, "Nurturing Newborn Lives through Community-Facility Engagement", emphasizes the importance of collaboration between communities and health facilities to improve newborn care. By working together, we can ensure that all newborns have access to the care they need to thrive.