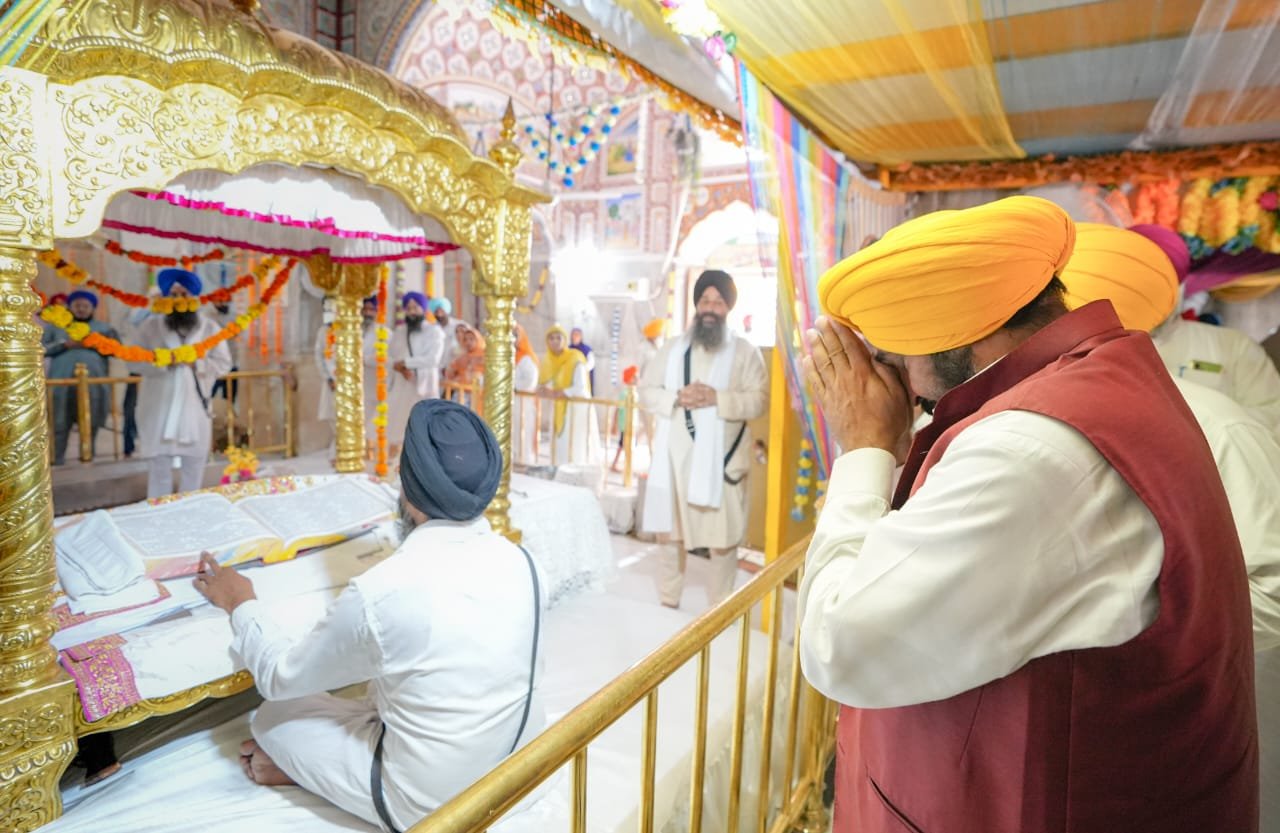 Punjab Chief Minister Bhagwant Singh Mann pays obeisance at Gurdwara Sri Baba Bakala Sahib
Baba Bakala (Amritsar), August 30-
Punjab Chief Minister Bhagwant Singh Mann on Wednesday paid obeisance at Gurdwara Sri Baba Bakala Sahib and prayed for the progress and development of the state and prosperity of its people.
The Chief Minister sought blessings of almighty to give enormous strength to him for serving the people of the state with all humility and dedication. He offered prayers at Gurdwara Sahib and reiterated the firm commitment of his government to serve the people of the state regardless of caste, colour, creed and religion to create a harmonious society. Bhagwant Singh Mann said that as taught by the great Gurus the ethos of love, brotherhood and harmony in the society will be maintained at every cost and will ever remain their top priority of the state government.
The Chief Minister thanked the Almighty for bestowing upon him the responsibility to serve the people of Punjab with sincerity, dedication and commitment to fulfill their aspirations. He said that it is always a unique experience for him to visit these holy shrines, which are fountainheads of inspiration and positivity for millions of people from around the world. Bhagwant Singh Mann said by God's grace his government is leaving no stone unturned to come up to the expectations of people and top priority is being accorded by the government to implement pro-people and development oriented policies.
Extending warm greetings to all Punjabis across the globe on the auspicious occasion of Raksha Bandhan (Rakhri) and Rakhar Punia, the Chief Minister said that this festival celebrates the sacred bond of love, care and protection between brother and sister. He said that it is a happy occasion for all of us to reaffirm the traditional social values ​​of love, peace and harmony that make us better human beings. Bhagwant Singh Mann exhorted the people to celebrate Raksha Bandhan with full fervor and gaiety adding that this festival may bring peace, love and amity in the society.