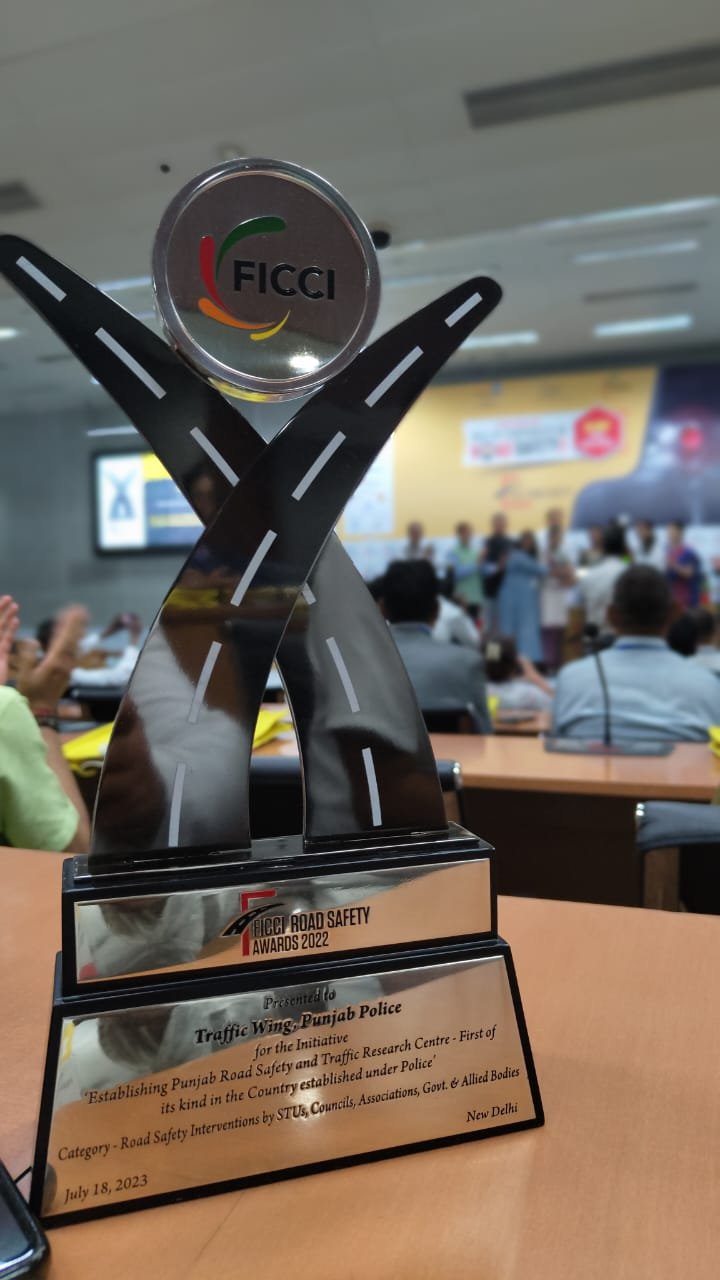 Punjab Traffic Wing Receives FICCI National Road Safety Award for Remarkable Efforts
Date: July 18, 2023
Chandigarh, India – The concerted efforts of the Traffic Wing of Punjab Police in making the state's roads safer have garnered recognition as they were honored with the esteemed "FICCI National Road Safety Award 2022" in the category of Road Safety Interventions. This accomplishment came as part of the ongoing campaign led by Chief Minister Bhagwant Mann.
Director General of Police (DGP) Punjab, Gaurav Yadav, extended his heartfelt congratulations to ADGP Traffic Amardeep Singh Rai and the entire team of the Traffic Wing for their unwavering commitment and hard work, which played a pivotal role in securing this prestigious accolade. The award was jointly received by Traffic Advisor Punjab and Director of Punjab Road Safety & Traffic Research Centre (PRSTRC), Dr. Navdeep Asija, and Scientist Simranjeet Singh on behalf of the Traffic Wing during a conference on "Role of Corporates in Road Safety and FICCI Road Safety Awards 2023" held at the FICCI Auditorium in New Delhi.
ADGP Amardeep Singh Rai dedicated this recognition to every individual within the Traffic Wing who has contributed their best efforts towards making Punjab's roads safer for all. He emphasized that this esteemed award acknowledges the outstanding initiatives undertaken by the Traffic Wing in promoting road safety and their unwavering dedication to creating safer roads for citizens.
The Traffic Wing of Punjab Police has demonstrated exceptional dedication and expertise in traffic management and ensuring the safety of commuters. In 2022, Punjab Police implemented a maximum number of initiatives aimed at saving lives on the roads. This recognition is a testament to their commitment and achievements.
The "Punjab Road Safety and Traffic Research Centre (PRSTRC)" has played a crucial role in data-driven decision-making, utilizing comprehensive data to make informed choices and implement effective road safety measures. Their contribution has been instrumental in shaping evidence-based strategies and initiatives to enhance road safety in Punjab.
The FICCI National Road Safety Award 2022 serves as a testament to the collective efforts and remarkable accomplishments of the Traffic Wing and PRSTRC in their pursuit of ensuring safer roads for all. It also motivates them to continue their valuable work in making Punjab's road infrastructure and traffic management systems even more robust and secure.