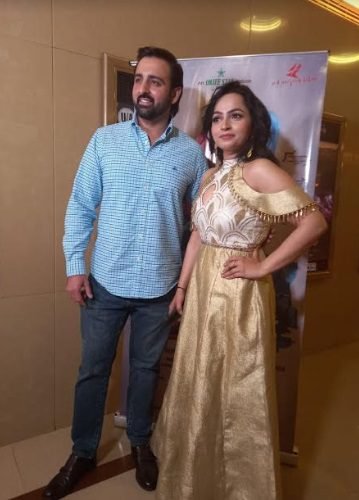 'Ranj'- named 'Slow Burn' in English reflects a mess of irritating thoughts and insecurities of a young guy
10th June 2022 kulbir kalsi |
The film 'Ranj', made under the banner of Pet Project Films, has been released today narrating the story of a boy who is driven to despair in a hostile megacity. The film is written and directed by Sunit Sinha who has also co-produced the film with Adesh Sidhu. The team of Ranj was present at the promotion of the film including Adesh Sidhu, Ekta Sodhi, Kriti V. Sharma, Kuljeet Singh, and its writer-producer-director Sunit Sinha.
The adept star cast of the film includes Adesh Sidhu (in the lead role), Ekta Sodhi, Kuljeet Singh in pivotal roles, and V. K. Sharma, Madhu Sagar, Kriti V. Sharma, Sukumar Tudu, Rakesh Singh, Nutan Surya, Raju Kumar, Ashok Tiwari and Rahul Nigam in supporting yet critical roles.
'Ranj'- named 'Slow Burn' in English reflects a mess of irritating thoughts and insecurities of a young guy, Amanpreet who feels alienated in an oppressive city, driven to the breaking point by its ruthlessly apathetic citizens, driving him to commit violence against himself and others.
After the release of the film, Sunit Sinha said, "The story of this film is one of its kind which shows how a boy who leaves his village to go out in search of work but has to face many difficulties in his life, and learns the truth of life is revealed. We hope the audience will feel the depth of the struggles of Amanpreet."
The lead actor and producer, Adesh Sidhu said, "I am very happy with the release of the film. It is a big thing for me to portray the feelings of a young boy in a film. Their compulsions show how they are coping with the situation. We hope that the audience will like this different film."
The story of a boy's lone fight 'Ranj' is