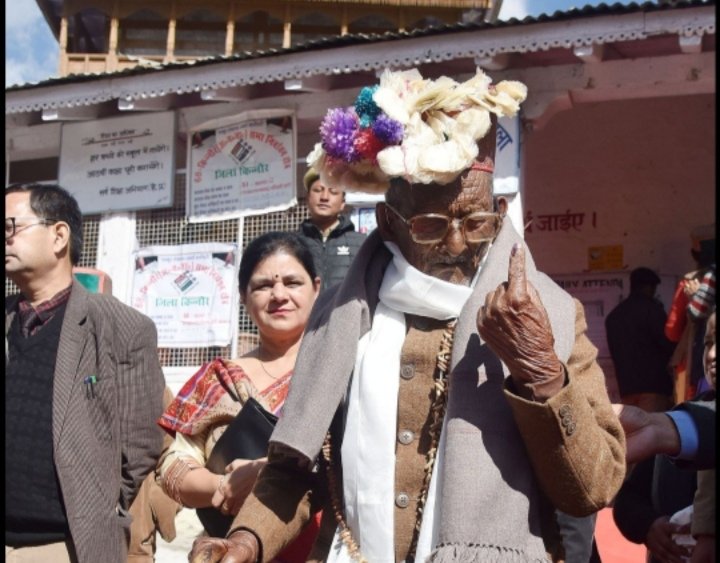 Shyam Saran Negi, India's first voter of Independent India, passed away  at 106
India's first voter of Independent India, passed away  at 106
Last voted just three days back
Dharamsala (Arvind Sharma)5/11/22
Chief Electoral Officer of Himachal , Maneesh Garg expressed his deep condolences on the demise of Shyam Saran Negi, (106) India's first voter of Independent India, who passed away at his residence in Kalpa in district Kinnaur early this morning.
In his condolence  message the CEO said that Shyam Saran Negiji, who was a state Election icon had motivated generations of voters for exercising their right to franchise for strengthening the democratic set up.
He said that such was his commitment that he voted till the last breath of his life as he had cast his vote through postal ballot on 2nd November,  at his home in Kalpa
"Sh Negi was a noble human being  and I pray to almighty to give peace to the departed soul and strength to the family members to bear the irreparable loss," said Garg . He will be cremated with full state honors today.
Shyam Saran Negi, ( 1 July 1917- 5 November 2022) was  a retired schoolteacher in Kalpa, Himachal Pradesh, who cast the first vote in the 1951 general election in India, the nation's first election since the end of the British Rule in 1947. Although most of the polling for that first election took place in February 1952, Himachal Pradesh went to the polls five months early because the weather there tends to be inclement in February and March and heavy snowfall during that period would have made it impossible for citizens to reach the polling stations. Negi cast the first vote on October 25, 1951 and last on 3 rd November 2022. He has voted in every general election since 1951.
File photo….ram saran negi