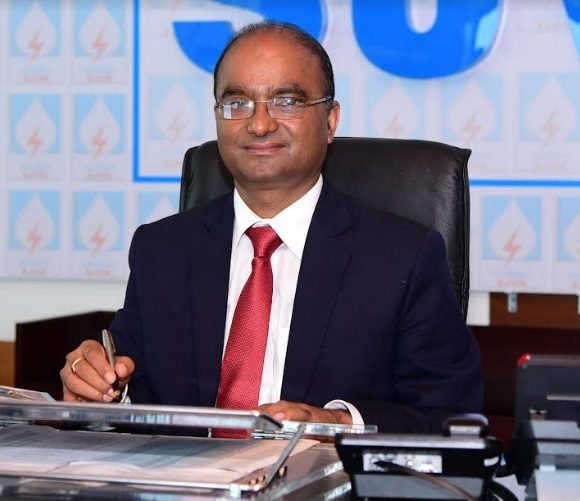 SJVN Secures 320 MW Solar Projects in Assam, a Major Step towards Clean Energy
Shimla: August 29, 2023
SJVN, under the leadership of Sh. Nand Lal Sharma, Chairman & Managing Director, has achieved a significant milestone by securing separate Letter of Awards for three solar projects totaling 320 MW in cumulative capacity from Assam Power Development Corporation Limited (APDCL).
Sh. Nand Lal Sharma shared that SJVN had participated in three distinct tariff-based competitive bidding tenders organized by APDCL for solar projects with capacities of 50 MW, 70 MW, and 200 MW. The projects have been allocated at competitive tariffs of Rs. 3.92 per unit for the 50 MW and 70 MW projects, which will be developed within the solar park category. Additionally, the 200 MW solar project has been awarded at a tariff of Rs. 3.90 per unit and will be developed in any suitable location within Assam. All projects will be executed by SJVN's wholly owned subsidiary, SGEL, on a Build Own and Operate basis.
Sh. Sharma further highlighted that SJVN's solar and wind project portfolio has achieved a significant milestone by reaching a capacity of 5 GW in the current financial year. This achievement aligns with SJVN's ambitious goals of reaching 'Mission 12000 MW by 2026' and the shared vision of achieving 25000 MW by 2030 and 50000 MW by 2040.
Underlining the advantages of these projects, Sh. Nand Lal Sharma emphasized that the combined projects are projected to generate approximately 628 million units of clean energy in the first year alone. Over the course of 25 years, the cumulative energy generation is anticipated to be around 14,591 million units, contributing significantly to the nation's 'Net Zero by 2070' objective. Moreover, the projects are expected to curtail approximately 7.14 lakh tonnes of carbon emissions upon commissioning. The investment estimate for these projects is approximately Rs 1900 crores, a contribution that will contribute to the holistic socio-economic development of the state.
These three solar projects, collectively amounting to 320 MW, are slated to be commissioned within 18 months of signing the Power Purchase Agreements (PPA) and are projected to be operational by March 2025. The PPAs, spanning 25 years, will be established with APDCL.
In addition to this achievement, SJVN had earlier signed a Memorandum of Understanding (MoU) with APDCL to collaborate on the development of 1000 MW floating solar power projects in the state, thereby furthering SJVN's commitment to the progress and green energy advancement in Assam.