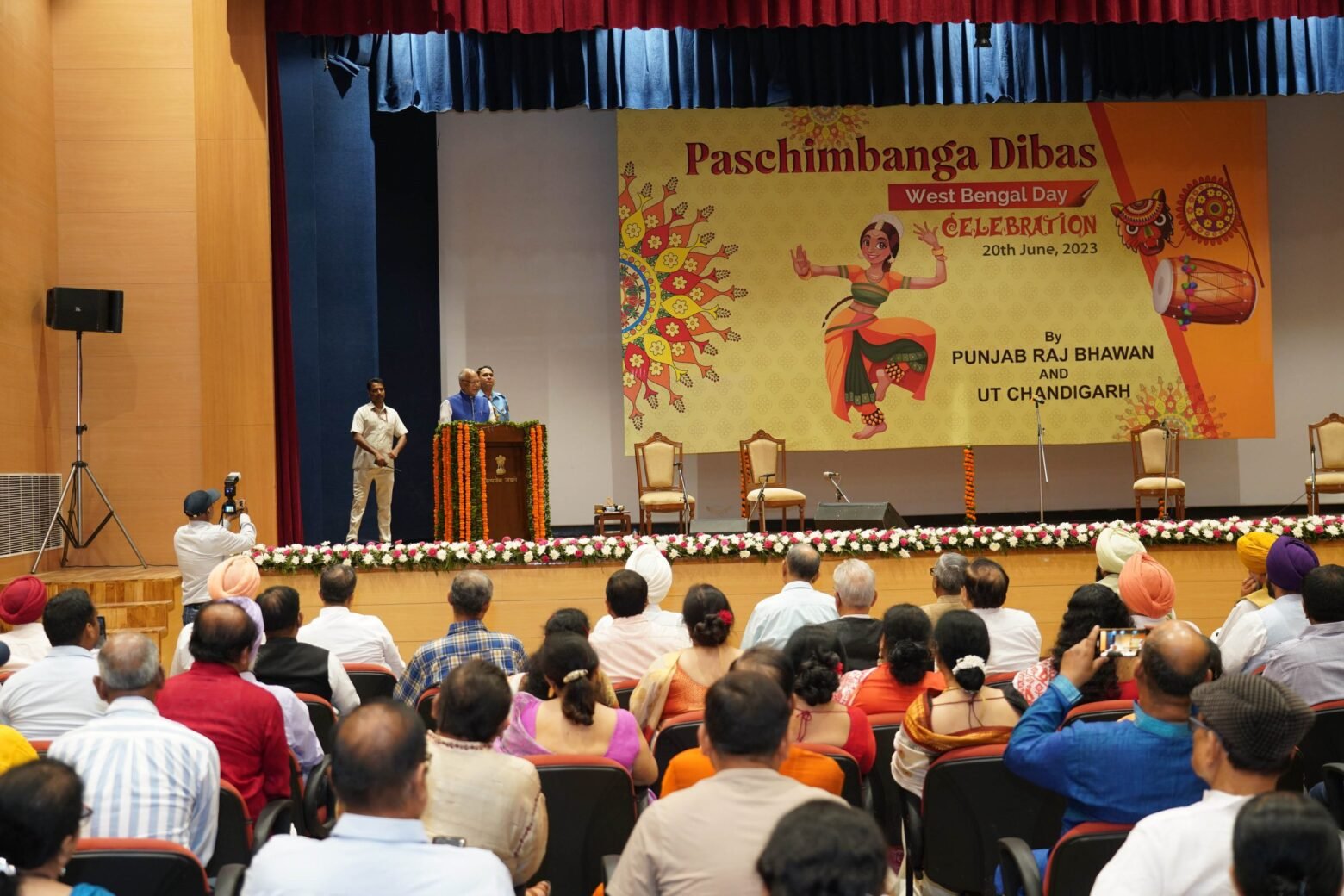 Spirit of sacrifice is akin to people of Punjab and Bengal – Governor Banwari Lal Purohit
The West Bengal Foundation Day Celebration took place at Punjab Raj Bhawan in Chandigarh. This event is part of the State Foundation Day Celebrations held under the National Integration initiative. Previously, Punjab Raj Bhawan and UT Administration jointly celebrated the Foundation Days of Gujarat, Maharashtra, Goa, Sikkim, and Telangana.
Governor Banwari Lal Purohit, in his speech, highlighted the unique diversity found in each state of our country. Celebrating Foundation Days provides an opportunity to learn about and understand the culture, food, clothing, festivals, and scenic locations of other states, fostering a sense of affinity and national unity.
Speaking about the people of Bengal, the Governor emphasized that the spirit of sacrifice is a defining characteristic. Bengal has been home to immortal freedom fighters, and bravery is a shared trait between the people of West Bengal and Punjab. Both states have given birth to revered revolutionaries. The Governor mentioned Khudiram Bose, who achieved martyrdom at the age of 18, as a son of Bengal, while Punjab takes pride in being the birthplace of Shaheed Bhagat Singh and Madan Lal Dhingra, who sacrificed their lives for the nation in their early 20s. Additionally, the famous Lal Bal Pal trio of the Indian Freedom Struggle consisted of Bipin Chandra Pal from Bengal and Lala Lajpat Rai, known as the Lion of Punjab.
Governor Purohit praised West Bengal as the birthplace of Gurudev Rabindranath Tagore and the land of Netaji Subash Chandra Bose, Swami Vivekananda, and Chaitanya Mahaprabhu. He mentioned notable figures like Raja Ram Mohan Rai, Ishwar Chander Vidya Sagar, scientists Jagdish Chandra Bose, P.C. Ray, S.N. Bose, Megh Nad Saha, political leaders Desh Bandhu Chitranjan Dass, Dr. Shyama Prasad Mukherjee, and former President Bharat Ratna Pranab Mukherjee, all hailing from Bengal. The state has also made significant contributions to Indian cinema, producing talented singers, musicians, and actors.
The event featured a captivating Baul singing performance, creating an atmosphere of energy and enthusiasm. Members of Bengla Samaj, Chandigarh, esteemed dignitaries, politicians, and senior officers from Punjab and Chandigarh were in attendance.