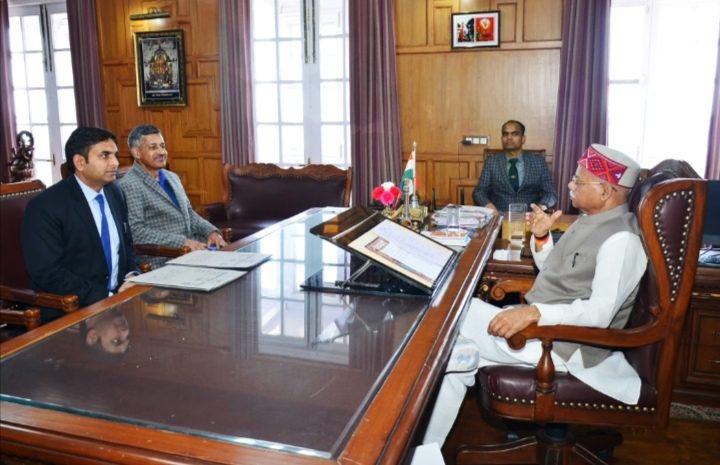 Take advantage of quality generic medicines on affordable price: Governor
1759 high quality medicines available at Janaushadhi Kendras
                   There was a need to increase more awareness among the people towards the Pradhan Mantri Bharatiya Janaushadhi Pariyojana (PMBJP) so that people could get the benefit of quality generic medicines directly at affordable prices. He said that the medicines available in Jan Aushadhi Kendras were proving to be a boon for the common people.
                   This was stated by the Governor Shiv Pratap Shukla here today during a meeting with Mission Director National Health Mission, Hemraj Bairwa. He said that under the Pradhan Mantri Bhartiya Janaushadhi Pariyojana, the people of Himachal Pradesh were being provided quality generic medicines at an affordable price through 48 functional Janaushadhi Kendras in the state. Total 1759 high quality medicines and 280 surgical and other products were available at these centers.
                   Sh. Shukla said that the prices of the Janaushadhi medicines were generally 50 to 90 percent less than that of branded medicines' prices and these generic medicines are available in the market. This scheme is very beneficial for people taking medicines every day, he added.
                   He expressed contentment that in Himachal Pradesh this financial year 2022-23, a savings of about Rs. 30 crore has been made through sale from Janaushadhi Kendras. In addition, Rs. 50 crore has also been saved through Ayushman and HIM Care Cards.
                   The Governor said that all the medicines were procured from World Health Organization-Good Manufacturing practices (WHO-GMP) certified suppliers only. Each batch of drug is tested at laboratories accredited by National Accreditation Board for Testing and Calibration Laboratories (NABL) for ensuring best quality and then sent to Kendra's for sale. He has urged all the doctors of the State to prescribe more generic medicines so that all classes especially poor could get its benefits.
                    The scheme has also provided employment opportunities as the operators of the Kendra are given assistance of up to five lakh rupees by the government and financial assistance of two lakh rupees is also being given to women entrepreneurs, disabled, retired soldiers, scheduled castes and scheduled tribes, aspirational districts and Himalayan, island territories and north- eastern states. Any individual, pharmacist entrepreneurs, NGOs, Trust, Society Institution etc., who have a 120 square foot shop and a trained pharmacist could open a Janaushadhi Kendra, he added.
                   He has appealed to the people to take advantage of this project and get inexpensive treatment from the nearby Janaushadhi Kendra. He said that on March 7 this year, the fifth Janaushadhi Day is being organized under PMBJP with the theme of 'Janaushadhi-Sasti Bhi, Achhi Bhi' and various programs were being organized throughout the State from 1 March for awareness of people.