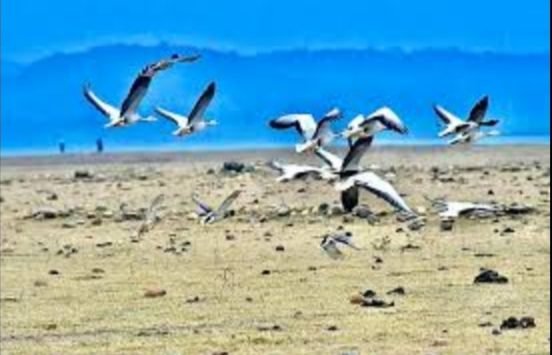 There is an increase in migratory birds in Pong dam wildlife sanctuary
Dharamsala (Arvind Sharma)1/2/23
As compared to last year ,there is an increase of about 7000 migratory birds in Pong dam wildlife century in Kangra District of HP.Informing this the Chief Conservator of Forest wild life Ms Upasana Patial said that as per the figures received on 31st January ,after an annual counting of these birds it comes out to be 1 lakh 17 thousands plus as compared to last year's figure of 1 lakh 10 thousand birds.
Patal said, "The best part of the two days count is that our teams sighted Long Tail Duck for the first time in this Ramsar sight. Northern pintail has increased from 4500 birds last year to 15700 this year. There is also an increase of 3000 Bar Headed geese this year."
She said that the lake may have more birds in coming days as these Siberian birds are returning from south Indian sights and they may have a journey break in Pong reservoirs.
When asked about the reason for this increase CC WildLife said that the birds are getting plenty of food here and they feel more protected now as not even a single poaching incidence was reported this year.