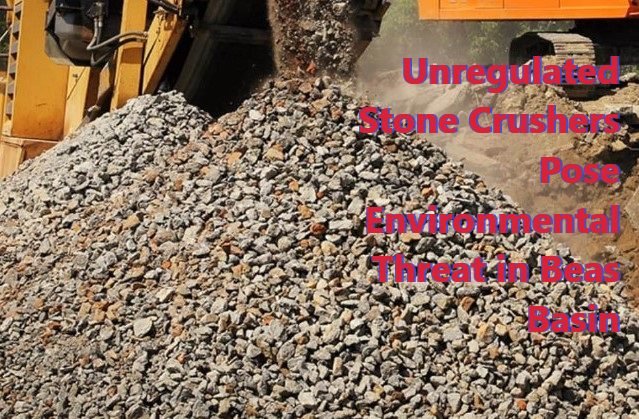 Unregulated Stone Crushers Pose Environmental Threat in Beas Basin: Multi-Sector Committee Report
Unregulated Stone Crushers Pose Environmental Threat in Beas Basin: Multi-Sector Committee Report
In an interim report submitted by the Multi-Sector Committee following a natural calamity triggered by monsoons in the state, it was revealed that 68 out of 131 stone crushers in the Beas River basin operated without proper permission, exacerbating the impact of climatic changes. The report emphasized the need for scientific study and urgent measures to address the environmental imbalance caused by unscientific and illegal mining along riverbeds.
The committee identified that among the stone crushers in the Beas River basin, 68 lacked the necessary permissions, while only 50 had valid permits. Seven crushers were directly affected by floods, and anomalies were found in the remaining six. The excessive dumping of muck in the Beas river and its banks during flash floods resulted in significant damage to life and property.
To mitigate these issues, the committee recommended granting operational permission to 50 stone crushers with necessary approvals, subject to specific guidelines. These crushers are advised to operate for 12 hours between 6 AM and 6 PM, with the use of DG sets deemed illegal. Additionally, the committee proposed the installation of CCTV cameras in all stone crushers, monitored by the State Pollution Control Board and Mining Department.
To curb illegal mining, the report suggested that local authorities report any such activity within a 500-meter radius of stone crushers. In cases of non-compliance, appropriate action should be taken against the crusher owners. Stone crushers without proper permissions are advised to obtain them on a case-by-case basis before consideration for operations.
The committee further recommended that the state government streamline the permission process for mining and stone crushers through a high-level authorized committee on a single-window basis. While awaiting the final committee report, a temporary ban on new stone crushers in the state is in effect. The report also stressed the need to strengthen the regulation of captive stone crushers to prevent their involvement in illegal activities.
The Industries Department is currently reviewing the committee's recommendations to address these environmental challenges effectively.