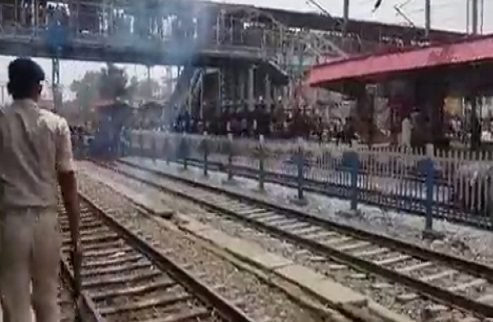 Violent Protest broke out across country against Agnipath scheme
Modi government has announced Agnipath, the tour of duty scheme, proposes the recruitment of jawans on a contractual basis for a four-year period followed by compulsory retirement for most without gratuity and pension benefits. The new recruitment plan aims to cut down the government's massive salary and pension bills and free up funds for arms procurement. 
This scheme of joining army for 4 years is not went well across the young generation of the country and the protests are started against this.
As per the news comming students has burnt tyres and boggies of the railway coach at Aara station in Bihar. The violent protest against this is reported from Haryana, Uttarpradesh Madhya Pradesh, west Bengal and other parts of the country.
Under the Agnipath scheme, about 45,000 people between the age of 17.5 years and 21 years will be inducted into the services for a four-year tenure. During this period, they will be paid a monthly salary between Rs 30,000-40,000 plus allowances. They will also be entitled to medical and insurance benefits.
After four years, only 25 per cent of these soldiers will be retained and they will go on to serve for a full 15 years in non-officer ranks. The remaining will exit the services with a package between Rs 11 lakh – ₹ 12 lakh, but won't be eligible for pension benefits. 
Under the old system, youths aged between 16.5 and 21 years were selected for a minimum of 15 years of service and used to get a pension after retirement.